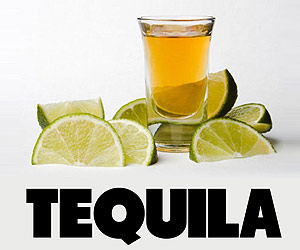 Drinks made with Tequila
Tequila is often thought of as just a shot you have to get drunk and is mostly assiciated with the tequila slammer. But Tequila is also found in many popular cocktail recipes, like Margaritas and Mojitos. We have a large rage of popular Tequila Cocktail Recipes and Tequila Cocktails for you to choose from.
About Tequila
Tequila is a distilled beverage made from the blue agave plant, primarily in the area surrounding the city of Tequila, 65 km northwest of Guadalajara, and in the highlands of the north western Mexican state of Jalisco. Mexican laws state that tequila can be produced only in the state of Jalisco and limited regions in the states of Guanajuato, Michoacan, Nayarit, and Tamaulipas.
With 100% agave tequila, blanco or plata is harsher with the bold flavors of the distilled agave up front, while reposado and anejo are smoother, subtler, and more complex.
As with other spirits aged in casks, tequila takes on the flavors of the wood, while the harshness of the alcohol mellows. The major flavor distinction with 100% agave tequila is the base ingredient, which is more vegetal than grain spirits.
When buying Tequila's make sure you look for '100% Agave' on the bottle so you know your getting a good product, some cheaper Tequilas only have 51% agave the rest is just extra sugars, flavourings and preseritaves. Tequilas with less than 100% Agave are sure to leave you with a nasty hangover and who knows what else. So CHECK your bottle of Tequila and go enjoy some awesome Tequila Cocktails.
Quick Links