Four Horsemen Shot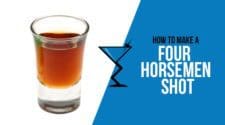 The Four Horsemen drink or 4 houseman is a cocktail containing four hard liquors and named after the Four Horsemen of the Apocalypse. Additionally, the four brand names usually all begin with the letter "J".
.25 oz Bourbon Whisky ((Jim Beam))
.25 oz Tennessee Whisky ((Jack Daniels))
.25 oz Scotch Whisky ((Johnnie Walker))
.25 oz Gold Tequila ((Jose Cuervo))
Mix all into a shot glass and drink.