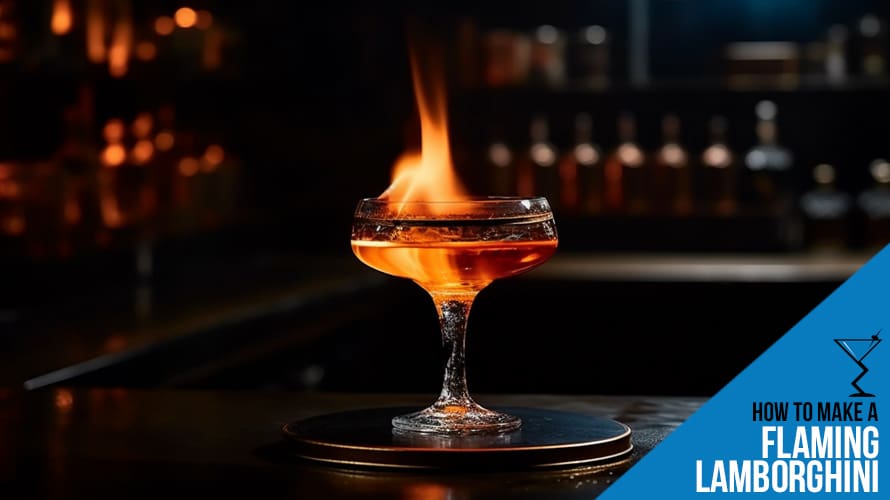 The Flaming Lamborghini is a dramatic and potent cocktail that's famous for both its blazing presentation and its high alcohol content. It is a layered shooter that's set on fire and then consumed quickly with a straw. This drink is as much about the spectacle as it is about the flavors, making it a popular choice for celebratory occasions.
WARNING: This cocktail can be Dangerous. Fire and extremely high alcohol content are very dangerous!
Ingredients – What's in it?
Adjust Servings
1
serving
Instructions – How to make it:
In a cocktail glass or small tall glass add 1 oz of Coffee Liqueur

Layer Sambuca on top.

In a separate shot glass or glasses add Blue Curacao and Irish cream and sit off to the side.

Light the Sambuca on fire. Quickly and carefully drink the coffee liqueur and sambuca with a straw before it melts.

As the bottom of the glass is reached, add the Irish Cream and Blue Curacao, which should put out any flames.

Keep drinking until its all gone.
Nutrition
Calories:
352
kcal
|
Carbohydrates:
31
g
|
Protein:
5
g
|
Fat:
9
g
|
Saturated Fat:
5
g
|
Polyunsaturated Fat:
0.2
g
|
Monounsaturated Fat:
1
g
|
Cholesterol:
121
mg
|
Sodium:
54
mg
|
Potassium:
13
mg
|
Sugar:
27
g
|
Vitamin A:
200
IU