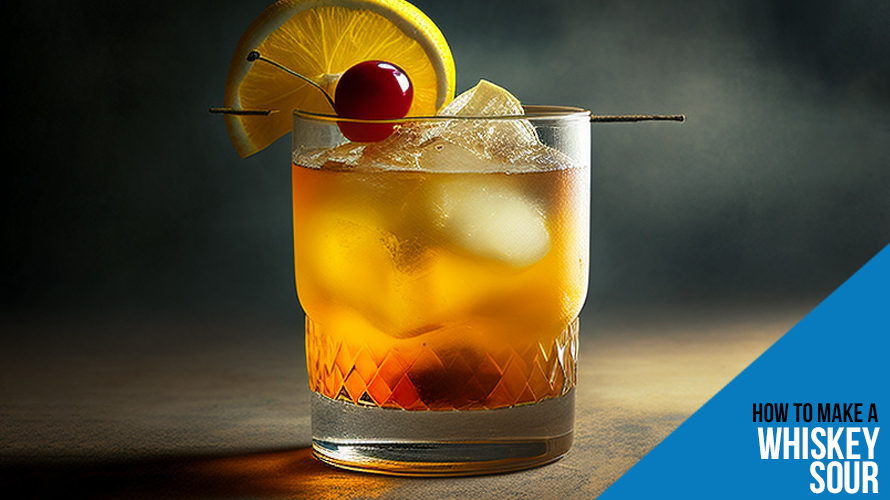 Whiskey Sour, a classic cocktail dating back to the late 1800s, is a perfect balance of sweet and sour with a whiskey base. The iconic cocktail has stood the test of time and remains a popular choice at bars and parties to this day. A whiskey sour offers a tangy and slightly sweet taste with a hint of whiskey. The sourness comes from the lemon juice, while the sweetness comes from simple syrup.
Whether you're a fan of whiskey or just looking for a refreshing and tasty drink, the whiskey sour is a great option. With its balance of sweet and sour and its rich history, it's a classic cocktail that's sure to impress. So, why not give it a try and see for yourself why it's so popular?
Ingredients – What's in it?
Adjust Servings
1
serving
Instructions – How to make it:
Shake blended whiskey. juice of lemon. and powdered sugar with ice and strain into a whiskey sour glass. Decorate with the half-slice of lemon. top with the cherry. and serve.
Nutrition
Calories:
158
kcal
|
Carbohydrates:
4
g
|
Protein:
0.1
g
|
Fat:
0.1
g
|
Saturated Fat:
0.01
g
|
Sodium:
0.2
mg
|
Potassium:
35
mg
|
Fiber:
0.2
g
|
Sugar:
3
g
|
Vitamin A:
6
IU
|
Vitamin C:
7
mg
|
Calcium:
2
mg
|
Iron:
0.1
mg