Aviation Cocktail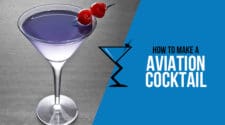 Noted for its beautiful colour, this old-school gin Aviation cocktail is as blue as the sky. Created before Prohibition, this staple was lost to the United States after the Noble Experiment. Luckily, the return of lots of classic liqueurs and quality spirits put this cocktail back on the market. Also seen in the hit TV show The Blacklist.
2 oz Gin
.5 oz Cherry Liqueur
.25 oz Crem De Violette
.75 oz Lime Juice
Add all the ingredients to a shaker and fill with ice.
Shake, and strain into a cocktail glass.
Garnish with a cherry if desired.