Kamikaze Shot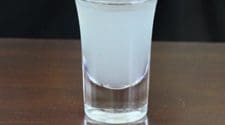 The Kamikaze Shot recipe is made with a combination of Vodka Triple Sec, Lime Juice, Lime Cordial, and . Served in a Old-Fashioned Glass. Learn how to make a Kamikaze Shot check out the full cocktail recipe details below.
.5 oz Vodka
.25 oz Triple Sec
.25 oz Lime Juice (or)
Lime Cordial
Shake all ingredients with ice. strain into a shot glass and serve.