Ruby Sunrise Cocktail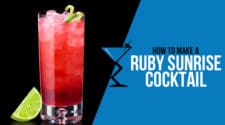 Sunny weekends call for this fresh cocktail in hand. Sip this Ruby fusion as you unwind on the patio and flaunt the glam life.
2 oz Viniq Ruby
1.5 oz Silver Tequila
1 oz Grapefruit Juice
1.5 oz Lemon Lime Soda
1 Lime Wheel
Pour tequila, and grapefruit juice into a shaker, shake with ice.
Strain into a highball glass, lay lime wheel on top
pour lemon lime soda and Viniq over lime and enjoy.