Charmander Pokemon Cocktail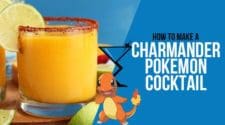 This Mango Margarita is the perfect blend of spicy and sweet, just like this classic fire-starter pokémon.
1 Mango
1 cup Orange Juice
1 oz Lime Juice
3 oz Silver Tequila
1 oz Triple Sec
1 dash Hot Sauce
.5 oz Agave Nectar (or)
.5 oz Maple Syrup
CHILI SALT RIM
1 Lime Wedge
1 tsp Chili Powder
.25 tsp salt
Add all margarita ingredients to a blender and blend until creamy and smooth.
Rim serving glasses with a lime wedge and immediately dip in salt/chili powder mixture
Fill with 1 large ice cube or several small. Pour over margarita and garnish with lime wedge.