-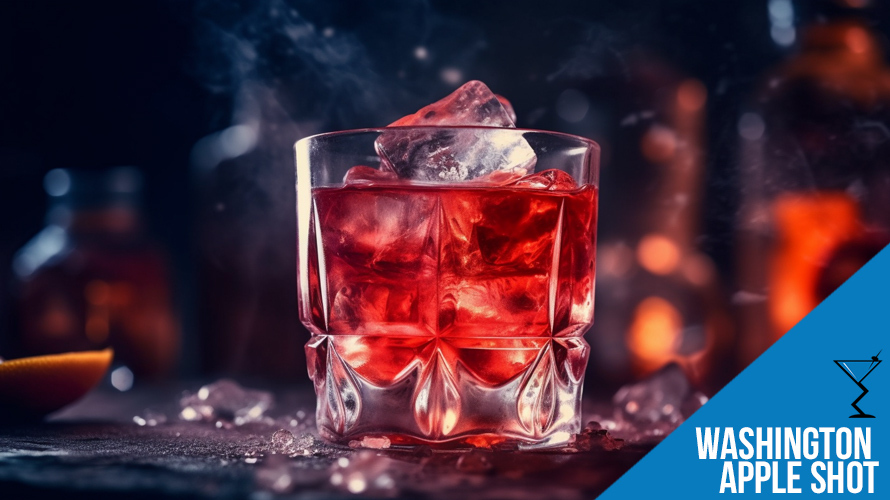 The Washington Apple Shot is a fun and easy-to-make variation of the Washington Apple cocktail. With equal parts Canadian whisky, sour apple schnapps, and cranberry juice, it's a recipe that can be easily adjusted to accommodate any group size. Simply multiply the ingredients based on the number of guests and mix them in shaker tins to prepare a round of shots for everyone to enjoy together.
Despite the combination of two tart and sweet mixers, the Washington Apple Shot maintains a surprisingly balanced flavor. The robust Canadian whisky cuts through the cranberry and sour apple schnapps, while a touch of club soda adds a subtle dilution and effervescence that brings all the ingredients together harmoniously. When selecting your whisky, feel free to choose your favorite bottle—just make sure it has enough strength and character to complement the mixers.
For a variation that reduces the tartness, you can substitute sour apple schnapps with Calvados, a French apple brandy. This swap introduces natural apple flavor without the artificial sweetness and intense sourness, and it also increases the shot's overall strength.
Keep in mind that if you opt for Calvados instead of sour apple schnapps, technically, you're not making a traditional Washington Apple Shot. However, cocktail improvisations are all part of the fun, so feel free to give your creation a unique name, like "Le Washington Apple Shot." After all, you're crafting a shot to enjoy with friends, not trying to fulfill a language requirement. So, raise your glasses and toast to good times with this delightful shot.
Ingredients – What's in it?
Adjust Servings
1
serving
Instructions – How to make it:
In a cocktail shaker filled with ice add your whisky, apple schnapps and cranberry juice and shake.

Strain into your shot glass and add a splash of Lemonade (Sprite) and serve.
Nutrition
Calories:
54
kcal
|
Carbohydrates:
7
g
|
Fat:
0.01
g
|
Saturated Fat:
0.001
g
|
Polyunsaturated Fat:
0.01
g
|
Monounsaturated Fat:
0.002
g
|
Sodium:
1
mg
|
Potassium:
1
mg
|
Sugar:
7
g
|
Vitamin C:
5.8
mg