-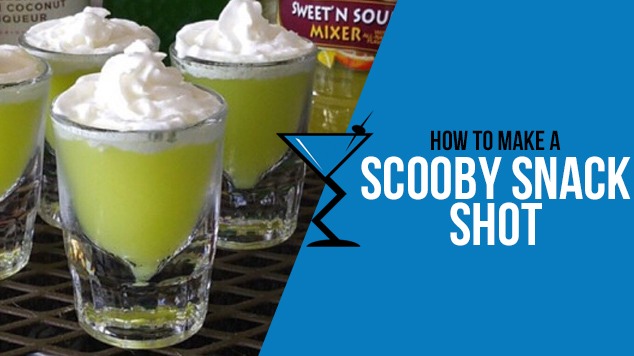 Rats Right Raggy! Treat yourself to some of the most delicious creamy pineapple and melon rum shooters. You know, as a snack a Scooby snack shot haha.
The scooby snack shot is a surprisingly popular shot.
Ingredients – What's in it?
Adjust Servings
1
serving
Instructions – How to make it:
In a cocktail shaker with ice add coconut rum, banana Liqueur, melon liqueur and pineapple juice into a stainless steel shaker over ice.

Add whipped cream, and shake; until well mixed

Strain into an old-fashioned glass and shoot.
Nutrition
Calories:
203
kcal
|
Carbohydrates:
16
g
|
Protein:
2
g
|
Fat:
12
g
|
Saturated Fat:
7
g
|
Polyunsaturated Fat:
0.5
g
|
Monounsaturated Fat:
3
g
|
Cholesterol:
41
mg
|
Sodium:
69
mg
|
Potassium:
86
mg
|
Fiber:
0.05
g
|
Sugar:
13
g
|
Vitamin A:
400
IU
|
Vitamin C:
8.3
mg
|
Calcium:
50
mg
|
Iron:
0.1
mg
What does it taste like?
With pineapple juice, coconut infused rum, and banana liqueur it tilts toward the sweeter side of shots, especially if you add the whipped cream. The most distinctive flavor and color comes from the Melon Liquor.
You won't mind these Scooby Snack Shots at all, they're some of the best pineapple and melon shooters around.
The origin of the drink's name is unknown but my hunch is it was created by a bartender who was a fan of the Scooby Doo television series. The green color of the shot is reminiscent of Shaggy's green shirt or the green on The Mystery Machine van that Shaggy, Scooby, Velma, Daphne, and Fred rode around in.
The scooby snack shot is a surprisingly popular shot. It would be great for Halloween parties but given its tropical flavors and cool color it is also a year-round favorite based on search volume trends.
The "Scooby Snack" shot is a cocktail that is typically made with a combination of vodka, pineapple juice, and coconut cream or coconut liqueur. The ingredients are mixed together and served in a shot glass. The drink is often garnished with a slice of pineapple or a cherry.
The "Scooby Snack" shot gets its name from the popular animated TV show "Scooby-Doo," which features a group of teenagers who solve mysteries while traveling in a van called the Mystery Machine. The drink is not officially associated with the show and is simply named as a playful reference.
Here are a few other cocktails that are similar to the "Scooby Snack" shot:
These cocktails all feature tropical flavors and are often served over ice, making them similar to the "Scooby Snack" shot in taste and presentation. They can be enjoyed at parties or as a refreshing drink on a hot day.