Dive into a Glass of Sunshine
Hey there, beach lovers and cocktail enthusiasts! Ready to ride the waves of flavor with one of the most iconic summer drinks? Let's talk about the Sex on the Beach cocktail – a drink that's as fun to sip as it is to say. It's like a beach party in a glass, and I'm here to guide you through making this fruity sensation that's perfect for any sunny day or lively night.
The Origin Story – A Cocktail with a Cheeky Name
It's the 1980s, sun-kissed beaches, and the rise of fruity cocktails. That's where our story begins. The Sex on the Beach cocktail, with its risqué name, was born out of a playful spirit and a love for all things fun and fruity. It quickly became a symbol of carefree summer days and wild nights.
What's in a Name? A Flavor Fiesta!
This cocktail isn't just about a catchy name; it's a masterful blend of flavors. Imagine the sweet taste of peach, the tang of cranberry, the zesty kick of orange, and the smoothness of vodka, all dancing together in perfect harmony. It's a flavor fiesta that brings the party to your taste buds!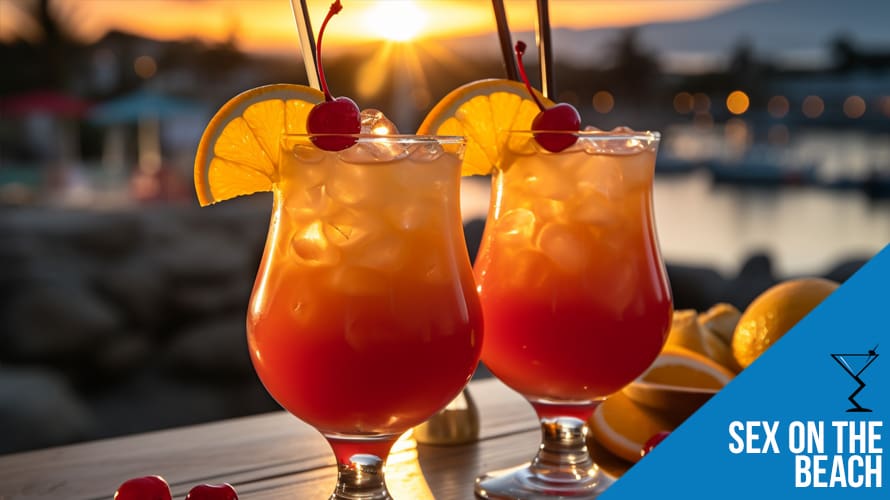 This is the popular Sex on the Beach cocktail recipe and what is most likely the original. Popular substitutes include using pineapple for the orange, or Midori & Chambord instead of schnapps. This is a great summer drink, Chicks love this and you don't have to get sand in all the wrong places. Its a very tasty Tropical cocktail, that's no to strong, and now you too can enjoy sex on the the beach.
Ingredients - What's in it?
Instructions - How to make it:
Add vodka and peach schnapps to a highball glass over ice.

Fill with equal measures of cranberry juice and orange juice and stir
Nutrition
Calories:
117
kcal
|
Carbohydrates:
13
g
|
Protein:
1
g
|
Fat:
1
g
|
Saturated Fat:
1
g
|
Sodium:
2
mg
|
Potassium:
157
mg
|
Sugar:
12
g
|
Vitamin A:
113
IU
|
Vitamin C:
34
mg
Crafting the Classic – Ingredients and Variations
The Classic Recipe
Vodka: The spirit base that brings it all together.
Peach Schnapps: For that sweet, fruity kick.
Orange Juice: Fresh is best for a zesty twist.
Cranberry Juice: Adds a tart edge and that gorgeous color.
Shake It Up – Variations Galore
Not a fan of vodka? Swap it for rum. Want it sweeter? Add a splash of pineapple juice. The beauty of Sex on the Beach is its versatility. It's like your favorite beach outfit – adaptable and always in style.
The Balancing Act – Sweet Meets Tart
The secret to a great Sex on the Beach? Balance. Too sweet, and you lose the kick. Too tart, and it's more pucker than pleasure. Play around with the ratios until you find your perfect beachside bliss.
Perfect Pairings – Food and Fun
This cocktail loves company. Pair it with light summer fare – think grilled shrimp, fresh salads, or fruity desserts. It's also the perfect companion for beach bonfires, pool parties, or just lounging on your deck.
Home Bar Hero – DIY Tips
No beach nearby? No problem! You can bring the beach to your home bar. Get creative with your garnishes – think tropical umbrellas or fun straws. And remember, the best ingredient is always a splash of fun.