-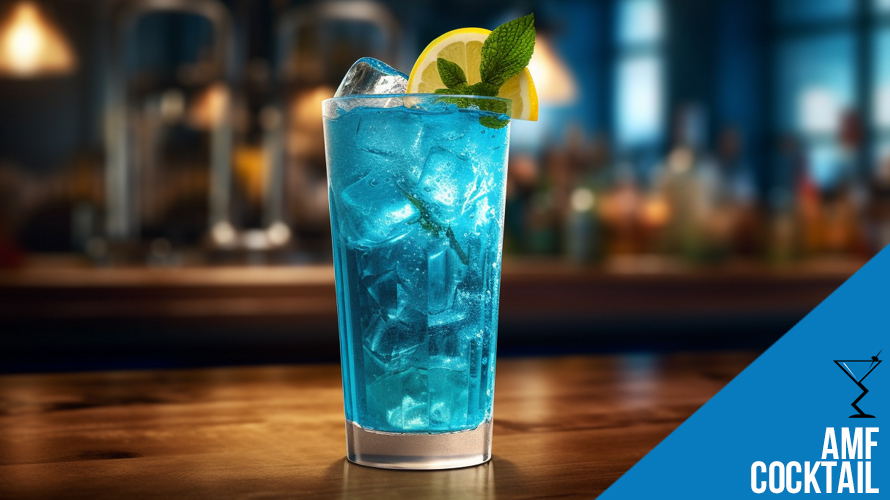 Adios Motherf*cker Cocktail also know as the AMF drink is a STRONG cocktail and after a few AFM's or Adios Mother F you will be saying Adios your self. Its heavy and strong, but dosn't tastes too strong. If you enjoy a long island iced tea you will probably enjoy this.
Ordering an Adios, Motherfucker takes a certain kind of person—one who exudes confidence and isn't afraid to make a bold statement. We're not talking about the watered-down versions like AMF or Adios, Mother F'er. We're talking about the real deal—the full seven-syllable force of an Adios, Motherfucker.
This cocktail is not for the faint of heart. It's bold, boozy, and vibrant blue. Similar to a Long Island Iced Tea, it packs a punch with five different alcoholic components. But instead of triple sec and cola, it features a generous pour of blue curaçao and a splash of Sprite or 7UP, giving it that eye-catching color and a lighter, citrusy flavor.
To truly make an Adios, Motherfucker, it's important to use homemade sweet-and-sour mix. Bottled versions are often loaded with sugar and additives, so it's best to make your own by combining a quick simple syrup (equal parts sugar and water) infused with fresh lime juice. Garnish your drink with a lemon wedge and cherry if desired, and then confidently enjoy this electrifying cocktail.
Remember, what truly makes an Adios, Motherfucker authentic is the person who mixes it—someone who is cool, confident, and uninhibited. That person can be you. Embrace the boldness, embrace the spirit, and embrace the name. Cheers to being a true Adios, Motherfucker.
Instructions - How to make it:
Pour all ingredients except the Lemonade into a chilled glass filled with ice cubes.

Top with Lemonade and stir gently.
Nutrition
Calories:
210
kcal
|
Carbohydrates:
14
g
|
Protein:
1
g
|
Fat:
1
g
|
Saturated Fat:
1
g
|
Sodium:
6
mg
|
Sugar:
12
g
|
Vitamin C:
11
mg