Black Opal Cocktail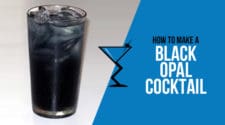 The Black Opal Cocktails is a strong drink. If you like the Long Island Iced Tea cocktail then you will probably like this. It has a sweeter and more fruity taste that will still knock you about like the Long Island Iced Tea.
.5 oz Vodka
.5 oz Gin
.5 oz Rum
.5 oz Triple Sec
.5 oz Blackberry Liqueur
.5 oz Blue Curacao
1 oz Lemonade
1.5 oz Sweet and Sour
Add all ingredients to a tumbler or tall glass with ice.
Stir and garnish with a lemon slice.