Adios Motherf*cker Cocktail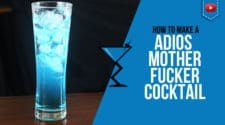 This is a STRONG cocktail and after a few AFM's or Adios Mother F you will be saying Adios your self. Its heavy and strong, but dosn't tastes too strong. If you enjoy a long island iced tea you will probably enjoy this.
.5 oz Vodka
.5 oz Rum
.5 oz Tequila
.5 oz Gin
.5 oz Blue Curacao
1 oz Sours
2 oz Lemonade
Pour all ingredients except the Lemonade into a chilled glass filled with ice cubes.
Top with Lemonade and stir gently.