Burt Reynolds Cocktail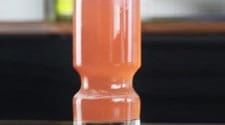 You may remember him from Smokey and the Bandit or Boogie Nights, Yes its Burt Renyolds Cocktail. And we can only assume its been named after him. Its stong yet tasty. This pink / peach coloured cocktail is sure to get your motor running just like Burt Renynolds in Smokey and the Bandit.
.75 oz Vodka
.75 oz Gin
.75 oz White Rum
.75 oz Coconut Rum
.75 oz Triplse Sec
1 oz Cranberry Juice
1 oz Pineapple Juice
In a cocktail shaker full of ice, pour in your vodka, gin, white rum, coconut rum, triple sec, cranberry juice and pineapple juce
Shake, and strain into your cocktail glass.