Johnny Vegas Shot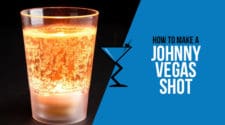 This should should be an orange colour when done correctly. Others have replaced the Watermelon Schnapps with Raspberry Schnapps.
.33 oz Gold Tequila
.33 oz Watermelon Schnapps (or)
Raspberry Schnapps
.33 oz Energy Soda
Mix all 3 in a cocktail shaker with ice. Careful not to shake too hard the energy soda will bubble too much.
Alternatively you could add the energy drink after shaking.
Strain into a shot glass.