-
The Jam Donut Shot – A Cocktail that Tastes Like Dessert
Ah, the humble jam donut. This classic sweet treat has inspired everything from baked goods to novelty socks, and now it's the muse behind a cocktail that's as decadent as it is delightful. Introducing the Jam Donut Shot—a dessert in a glass that's perfect for after-dinner sipping or celebrating special occasions.
The Jam Donut Shot is a mini-masterpiece of layered flavors that mimics the taste of its doughy namesake. At its base, raspberry liqueur provides a fruity foundation reminiscent of sweet jam. On top of this lies Bailey's Irish Cream, adding a luxurious, velvety texture that can be likened to the soft dough of a donut. The sugar-rimmed glass and a splash of sugar syrup bring it all together, offering the sweet finishing touch that makes this cocktail a genuine dessert doppelganger.
a sip-able version of a jam donut. The beauty of the Jam Donut Shot lies in its simplicity. With only a few ingredients and a couple of minutes, you can create a cocktail that's sure to become the toast of any gathering.
Whether you're hosting a dessert-themed party or simply looking for a unique way to end a meal, the Jam Donut Shot is a quick, easy, and utterly delicious option. So why settle for just eating your dessert when you can drink it too?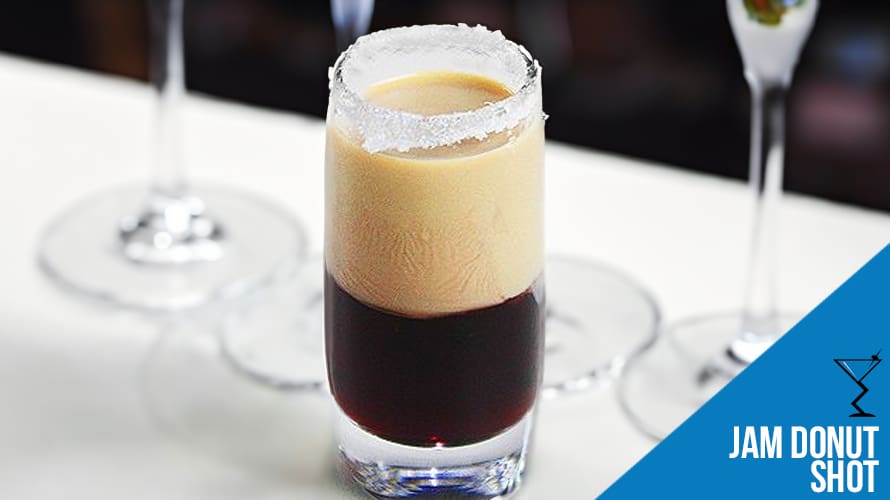 The Jam Donut shot is a sweet and fruity cocktail that has a flavor that is reminiscent of the classic sweet treat.
he raspberry liqueur adds a bold and fruity flavor to the drink, The Bailey's Irish cream adds a rich and velvety texture to the cocktail, and the grenadine syrup adds a touch of sweetness.
The Jam Donut Shot is sure to please anyone with a sweet tooth or loves a classic Jam doughnut. The combination of Irish Cream and Raspberry Liquour is a perfect mix to give you that Jam Donut taste. The good thing about this shot it, its quick and easy to make.
Ingredients – What's in it?
Adjust Servings
1
serving
Instructions – How to make it:
Wet the top of your shot glass with sugar syrup or water and coat the rim with sugar.

Add your Raspberry Liqueur and then carefully layer Irish cream on top.
Nutrition
Calories:
117
kcal
|
Carbohydrates:
15
g
|
Protein:
1
g
|
Fat:
2
g
|
Saturated Fat:
2
g
|
Cholesterol:
1
mg
|
Sodium:
5
mg
|
Sugar:
14
g
|
Iron:
0.3
mg
Here are a few similar shots that you might enjoy:
The Rainbow Shot – This fun and colorful shot is made with a variety of fruit liqueurs, including raspberry liqueur, blue curacao, and green melon liqueur. The liqueurs are layered in a shot glass to create a rainbow effect, and the shot is typically served with a straw so that drinkers can enjoy all of the different flavors in one sip.

The Candy Shot – This sweet and indulgent shot is made with a variety of liqueurs and syrups that are inspired by popular candy flavors. For example, you might use cotton candy vodka, bubblegum liqueur, and marshmallow syrup to create a shot that tastes like a handful of sweet, sugary treats.

Cotton Candy Martini – This playful and whimsical cocktail is made with cotton candy vodka, which gives it a sweet and fruity flavor that is reminiscent of the classic carnival treat. The cocktail is typically served in a martini glass and is garnished with a sprinkle of cotton candy on top.
These are just a few examples of similar shots that you might enjoy. There are many other creative and fun cocktails to explore and enjoy as well.