Viniq Cosmo Cocktail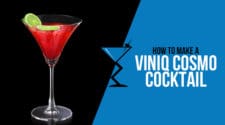 A shimmery twist on a classic drink that matches your good looks and sophistication.
2 oz Viniq Ruby
1.5 oz Vodka
.75 oz Lime Juice
.75 oz Triple Sec
1 Lime Wheel
Pour vodka, lime, and triple sec into a shaker, shake with ice. Strain into a martini glass
lay lime wheel on top
and pour Viniq over lime and enjoy.