Crispy Crunch Shot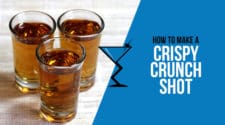 The Crispy Crunch shooter cocktail gets its name from a brand of chocolate and peanut bar made by Candbury.
1 oz Coffee Liqueur
1 oz Brandy
1 oz Creme De Cacao
1 oz Hazelnut Liqueur
Add ingredients to a cocktail shaker with ice.
Shake until chilled and strain into your shot glasses.