Cactus Cooler Cocktail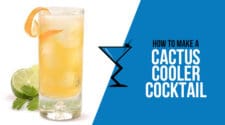 The Cactus Cooler Cocktail is the perfect summer drink when your having a picnic or by the pool. If you like this cocktail you might also like the Cactus Cooler Shot.
1 oz Pineapple Juice
.75 oz Mandarin Vodka
.75 Oz Peach Schnapps
1 oz Orange Juice
top with Lemonade
In a tall cocktail glass filled with ice. Add Peach Schnapps and Mandarin Vodka.
Then add 1 oz of Pineapple juice and 1 oz of pineapple juice.
Top with Lemonade or Lemon Lime Soda.