-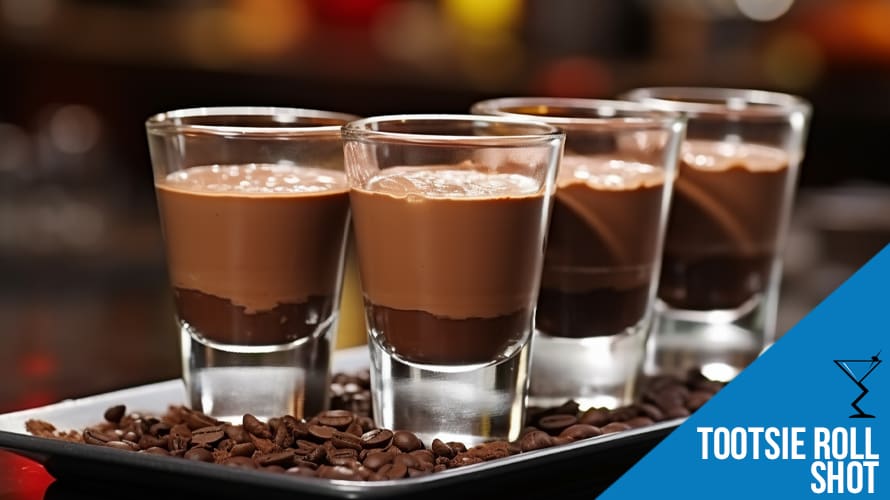 Tootsie Roll a candy icon that's been delighting taste buds for generations. But what if I told you we've got a way to relive that childhood joy, only this time, it's served in a shot glass? Enter the Tootsie Roll Shot, a cocktail that perfectly captures the essence of the classic chewy chocolate treat. With just three simple ingredients, this shot is a perfect go-to when you're looking to serve up some nostalgia at your next gathering.
Layering isn't necessary for this shot because of its dark hue, which is great news for those of us who want a delicious cocktail without the fuss.
Ingredients – What's in it?
Adjust Servings
1
serving
Instructions – How to make it:
Fill a cocktail shaker with ice.

Add 1/3 oz of each liqueur: coffee, dark crème de cacao, and hazelnut.

Shake well until chilled.

Strain into a shot glass.
The Tootsie Roll Shot is a perfect example of how simple combinations can yield complex flavors. This shot is an instant crowd-pleaser, ideal for parties, intimate gatherings, or even a solo trip down memory lane.
A Snapshot of the Ingredients
The Tootsie Roll Shot features a trio of liqueurs that meld together to create that distinctive Tootsie Roll flavor we all know and love. Here's a quick breakdown:
Coffee Liqueur: The base of our shot, this adds a rich, deep flavor that mimics the cocoa essence of a Tootsie Roll.
Dark Crème de Cacao: The chocolatey goodness that gives the shot its signature taste.
Hazelnut Liqueur: Adds a nutty layer to the mix, enhancing the complexity and depth of the shot.
Nutrition
Calories:
65
kcal
|
Carbohydrates:
9
g
|
Protein:
0.01
g
|
Fat:
0.03
g
|
Saturated Fat:
0.01
g
|
Polyunsaturated Fat:
0.01
g
|
Sodium:
1
mg
|
Sugar:
7
g