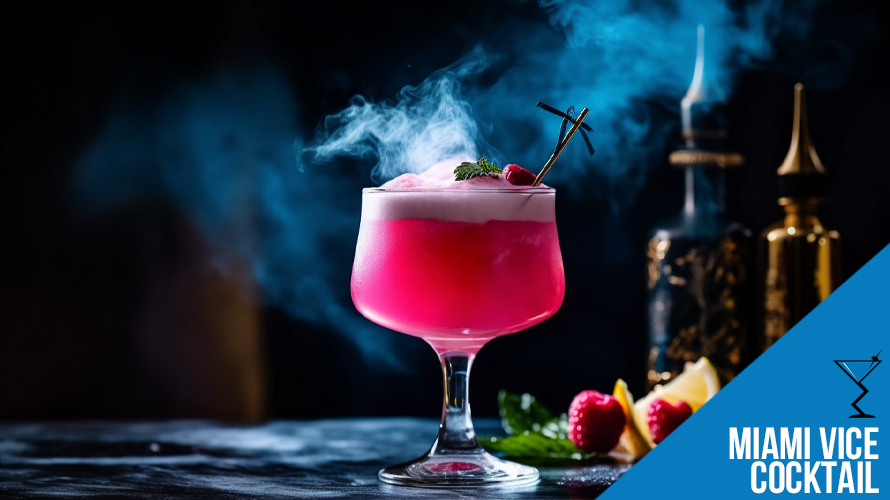 Contrary to popular belief, the Miami Vice cocktail was not inspired by the iconic television series. This tropical drink, a delightful combination of a Strawberry Daiquiri and a Piña Colada, predates the show by several years. However, its name and presentation undeniably evoke the vibrant Miami atmosphere.
The Miami Vice has always found its home in two settings: nightclubs and beach bars. Even as the popularity of sweet, frozen drinks from the '80s and '90s has waned, tropical cocktails continue to reign supreme in beachside resorts and vacation destinations, serving as a fun and delicious reminder that you're on a holiday.
To create a Miami Vice, you'll need to prepare two separate cocktails. The Strawberry Daiquiri is made with rum, lime juice, simple syrup, and fresh strawberries, blended with crushed ice until smooth. On the other hand, the Piña Colada combines rum, pineapple juice, and cream of coconut, also blended with crushed ice until smooth.
Now that you have both cocktails prepared, it's time to combine them. While the order doesn't affect the taste, the typical presentation involves pouring the Strawberry Daiquiri into the glass first, followed by the Piña Colada. This creates a visually striking layered effect and offers the drinker a delightful choice. Sip from the bottom for a taste dominated by the Daiquiri, sip from the top for a creamy coconut experience, or mix them together to enjoy the harmonious blend of two beloved tropical cocktails. There are no wrong answers here—it's all about personal preference.
Although it may be tempting to use ready-made mixes, it's best to resist that urge. By sticking to fresh fruits, freshly squeezed juice, and quality rum, your Miami Vice will truly shine in both taste and appearance. Just like the iconic white jackets, V-necks, and loafers from the television show, this cocktail will make a memorable impression.
Ingredients – What's in it?
Adjust Servings
1
serving
Instructions – How to make it:
In a blender, add 1 ounce of the rum, strawberries, lime juice, simple syrup and 1 cup crushed ice and blend until smooth.

Pour into a hurricane glass and set in the freezer.

Wash and dry the blender thoroughly.

In the clean blender jar, add the remaining 1 ounce of rum, cream of coconut, pineapple juice and 1 cup crushed ice and blend until smooth.

Pour into the hurricane glass that already contains the Strawberry Daiquiri, creating a layered effect.

Garnish with a pineapple slice.
Nutrition
Calories:
500
kcal
|
Carbohydrates:
71
g
|
Protein:
1
g
|
Fat:
10
g
|
Saturated Fat:
9
g
|
Polyunsaturated Fat:
0.3
g
|
Monounsaturated Fat:
0.1
g
|
Sodium:
40
mg
|
Potassium:
350
mg
|
Fiber:
5
g
|
Sugar:
62
g
|
Vitamin A:
35
IU
|
Vitamin C:
104
mg
|
Calcium:
38
mg
|
Iron:
1
mg