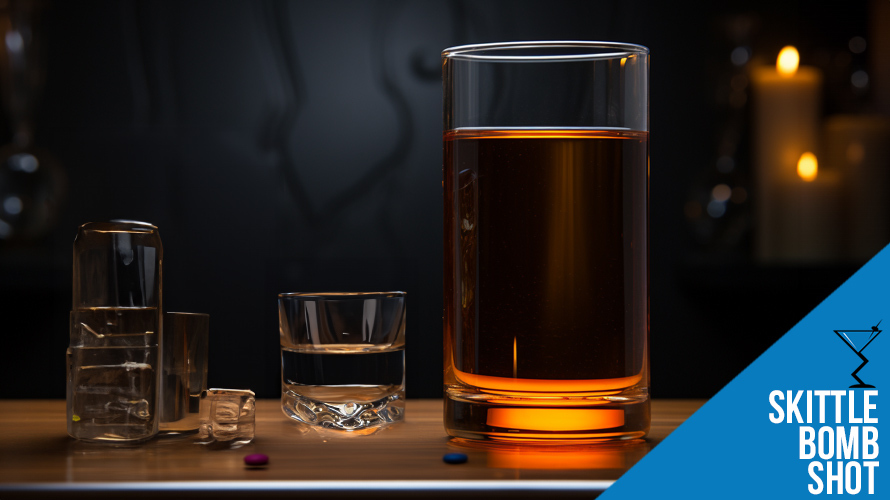 The Skittle Bomb also known in France as Retreau (pronounced Retro) is an alcoholic bomb shot cocktail that gets its name from its Skittles confectionery taste. The method of preparation is similar to that of the Jager Bomb. It consists of a shot glass of Cointreau dropped into a glass containing Red Bull.
Not the skittle bomb shot you were looking for? Try the Skittle Bomb Shot 2
Ingredients – What's in it?
Adjust Servings
1
serving
Instructions – How to make it:
Pour 1 oz of Triple Sec in to a shot glass.

Fill you cocktail glass with 1/2 a can of Energy Soda.

Drop the Shot into your glass and drink.
Skittle Bomb Shot – The Candy-Inspired Drink Trend You Can't Miss!
"Unleash the Flavor Fiesta with the Skittle Bomb Shot! 🌈
Ever imagined sipping the rainbow? Dive into the most vibrant and electrifying drink sensation that's taken the world by storm: the Skittle Bomb Shot! This isn't just a drink; it's a candy-infused party in a glass. Bursting with the tantalizing sweetness of Skittles and the exhilarating rush of your favorite energy drink, it's no wonder this drink is the talk of every trendy bar and party hotspot.
But why is everyone so obsessed?
Not only does it perfectly capture the nostalgic taste of your favorite childhood candy, but it also delivers a zesty punch that'll make your taste buds dance. From influencers to celebrities, everyone's raving about this neon-green marvel. Don't get left behind! Discover what the buzz is all about.
Get ready to light up your nights and add a splash of color to your evenings. The Skittle Bomb Shot is not just a drink; it's an experience, a flavor revolution, and most importantly, the must-try sensation of the year!
Dive in, sip the rainbow, and let the Skittle Bomb magic begin! 🍹✨
#DrinkTheRainbow
Nutrition
Calories:
155
kcal
|
Carbohydrates:
27
g
|
Protein:
1
g
|
Fat:
1
g
|
Saturated Fat:
1
g
|
Sodium:
10
mg
|
Sugar:
26
g
|
Iron:
1
mg