Bottle Cap Shot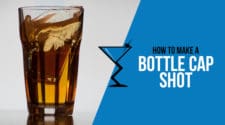 This is a drink that tastes just like the Bottle Caps candy and thats where it got its name from.
.5 oz Raspberry Liqueur
.5 oz Root Beer Schnapps
1.5 oz Lemonade
.5 oz Margarita Mix
Pour the Raspberry Liqueur and Rootbeer Schnapps into a shot glass.
Mix the Lemonade and Margarita mix together in a highball glass.
Drop the shot glass into the highball glass. and serve.