Tom Collins – A Timeless Toast to Simplicity and Style
Welcome to the world of the Tom Collins, a cocktail that's as timeless as it is refreshing. This isn't just a drink; it's a piece of cocktail history, a staple in the world of mixology, and a favorite for many. Let's dive into what makes the Tom Collins a classic that continues to captivate.
The Story Behind the Tom Collins
The Tom Collins has a history as intriguing as its taste. Originating in the 19th century, it's named after a practical joke that became popular in New York in 1874. The joke involved telling someone that a man named Tom Collins was speaking ill of them, leading them on a wild goose chase to find this non-existent person. This playful background adds a layer of fun to every sip.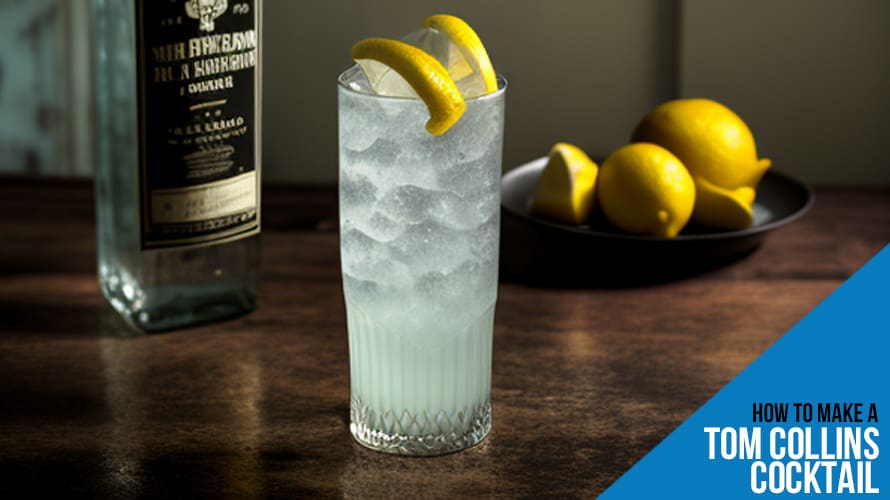 Get ready to fizz, stir, and sip on summer with the classic Tom Collins Cocktail! This bright and bubbly drink is a zesty blend of gin, lemon, sugar, and soda, sure to make any day feel like a vacation.
The Tom Collins Cocktail is a refreshing drink that is perfect for a warm summer day. This classic cocktail is made from gin, lemon juice, sugar, and carbonated water, and is typically served over ice in a tall glass.
Ingredients - What's in it?
Adjust Servings
1
serving
Instructions - How to make it:
In a cocktail shaker with ice add gin, lemon juice and sugar.

Shake well and strain into a Collins glass with ice.

Add club soda and stir.

Garnish with a cherry and orange slice.
Nutrition
Calories:
182
kcal
|
Carbohydrates:
17
g
|
Protein:
0.3
g
|
Fat:
0.02
g
|
Saturated Fat:
0.003
g
|
Polyunsaturated Fat:
0.01
g
|
Monounsaturated Fat:
0.005
g
|
Sodium:
24
mg
|
Potassium:
73
mg
|
Fiber:
1
g
|
Sugar:
13
g
|
Vitamin A:
50
IU
|
Vitamin C:
33.8
mg
|
Calcium:
10
mg
The Charm of Simplicity
The beauty of the Tom Collins lies in its simplicity. The combination of gin's botanicals, the tartness of lemon, and the sweetness of simple syrup creates a harmonious balance. It's a drink that's both easy to make and universally appealing.
Versatility and Variations
The Tom Collins is like a blank canvas. While the classic recipe is beloved, it's also the perfect base for experimentation. Swap gin for bourbon to make a John Collins, or add a splash of fruit syrup for a fruity twist.
Tom Collins in Popular Culture
This cocktail isn't just a bar staple; it's a cultural icon. It's been referenced in novels, films, and songs, cementing its status as a timeless classic.
A Drink for All Occasions
Whether it's a backyard barbecue or a fancy dinner party, the Tom Collins fits right in. It's the kind of drink that brings people together, a common favorite among diverse tastes.
A Summer to Remember
I recall a summer when the Tom Collins was the star of every party. It was the perfect antidote to the heat, a refreshing companion that never failed to please the crowd.
Hosting with Tom Collins
Serving Tom Collins at your next gathering? It's a surefire hit. Its simplicity means you can mix it up in batches, and its versatility allows guests to customize their own.
The Tom Collins is more than just a cocktail; it's a testament to the enduring appeal of simplicity and balance in mixology. Whether you're a cocktail aficionado or a casual drinker, the Tom Collins is a must-try that promises to refresh and delight.