-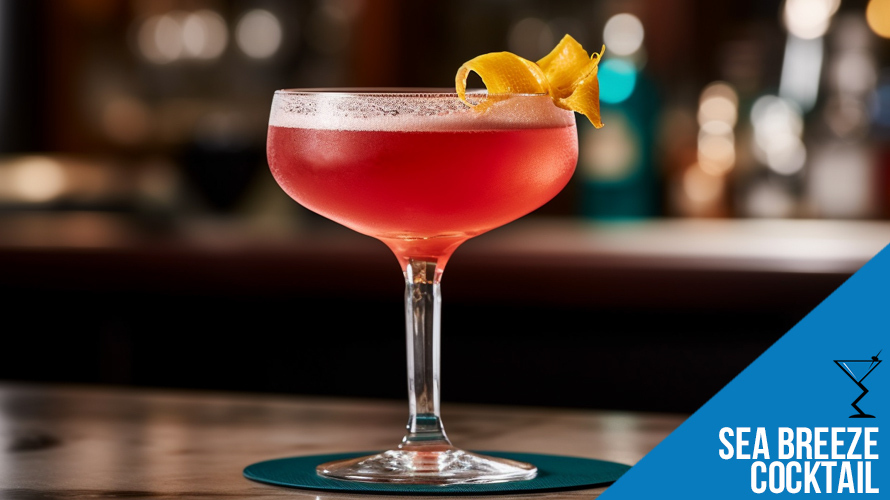 The Sea Breeze is a beloved cocktail that became an icon of 1980s drinking, perfect for enjoying sunny days at the beach with its light and refreshing profile. This cocktail features vodka, cranberry juice, and grapefruit juice, often grouped with other popular drinks of the era like the Cape Codder and the Bay Breeze. While these cocktails share common ingredients, the Sea Breeze has a history all its own.
Although the Sea Breeze gained significant popularity in the 1980s, its origins can be traced back several decades in a different form. In Harry Craddock's renowned 1930 book, "The Savoy Cocktail Book," there's a recipe for the Sea Breeze Cooler. This earlier version includes equal parts dry gin and apricot brandy, along with lemon and grenadine, served over ice, topped with club soda, and garnished with mint. While different from the modern Sea Breeze, many believe this serves as the foundation for its evolution. Interestingly, the change in recipe may be attributed to clever marketing by a cranberry consortium.
In the 1960s, Ocean Spray, originally a growers' collective founded in 1930, started promoting cranberries through recipe booklets, encouraging their use in various foods and drinks, including cocktails. One of the featured cocktails was named the Sea Breeze and included cranberry juice, possibly marking the first appearance of cranberry in the popular drink.
Today, the Savoy's Sea Breeze Cooler has faded into relative obscurity, replaced by the modern version with vodka. This cocktail remains a favorite due to its thirst-quenching and delicious nature, while also being incredibly easy to make. Bottled cranberry juice remains a popular choice, as fresh juice can be too tart on its own. However, using freshly squeezed grapefruit is always a great idea, as its vibrant citrus notes contribute to the cocktail's refreshing and invigorating qualities.
Whether you're actually on the beach or simply trying to evoke beach vibes with your drink, the Sea Breeze is here to help. This cocktail is conveniently built in the glass you drink it from, making it the easiest way to bring sunny weather to your enjoyment. So sit back, relax, and sip on a Sea Breeze—it's the perfect way to enjoy a taste of sunshine.
Ingredients – What's in it?
Adjust Servings
1
serving
Instructions – How to make it:
Pour Vodka, Grapefruit Juice and Cranberry Juice into a cocktail shaker filled with ice. Shake then strain into your glass..
Nutrition
Calories:
184
kcal
|
Carbohydrates:
13
g
|
Protein:
0.3
g
|
Fat:
0.1
g
|
Saturated Fat:
0.01
g
|
Polyunsaturated Fat:
0.05
g
|
Monounsaturated Fat:
0.02
g
|
Sodium:
2
mg
|
Potassium:
97
mg
|
Sugar:
12
g
|
Vitamin C:
57.8
mg