Rum Runner Cocktail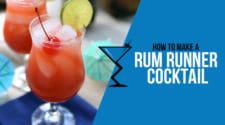 The Rum Runner cocktail is a tropical drink.
1 oz Lime Juice
.5 oz Banana Liqueur
.5 oz Blackberry Liqueur
1 oz Spiced Rum
2 oz White Rum
2 dashes Grenadine Syrup
.25 oz Dark Rum
Add Lime Juice, Banana Liqueur, Blackberry Liqueur, Grenadine, Spiced Rum and White rum into a cocktail shaker.
Shake and strain into your cocktail glass.
Then float Dark Rum on top
Garnish with orange wheel and a cherry.