Ocean Breeze Cocktail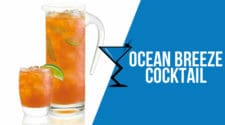 Feel the motion in the ocean with this tongue tickling sensation made with Melon Liquour, Raspberry Vodka, Pineapple and Cranberry juice.
1.5 oz Melon Liqueur
1.5 oz Raspberry Vodka
1.5 oz Pineapple Juice
3-4 oz Cranberry Juice
Stir ingredients together in a collins glass filled with ice cubes. Top with a cherry and serve.