The Zesty Allure of the Lemon Drop Shot: A Citrusy Twist to Your Cocktail Experience
In the vibrant world of cocktails, the Lemon Drop Shot stands out as a refreshingly simple yet elegantly zesty drink. This delightful concoction, a blend of tart lemon and smooth vodka, perfectly encapsulates the essence of modern mixology – where simplicity meets sophistication.
History and Origin
The Lemon Drop Shot finds its roots in the classic Lemon Drop Martini, a drink believed to have been invented in the 1970s at Henry Africa's, a now-closed bar in San Francisco. The creation of Norman Jay Hobday, the Lemon Drop Martini was a sweet, sour, and potent mix, which has since evolved into the more concise and direct Lemon Drop Shot.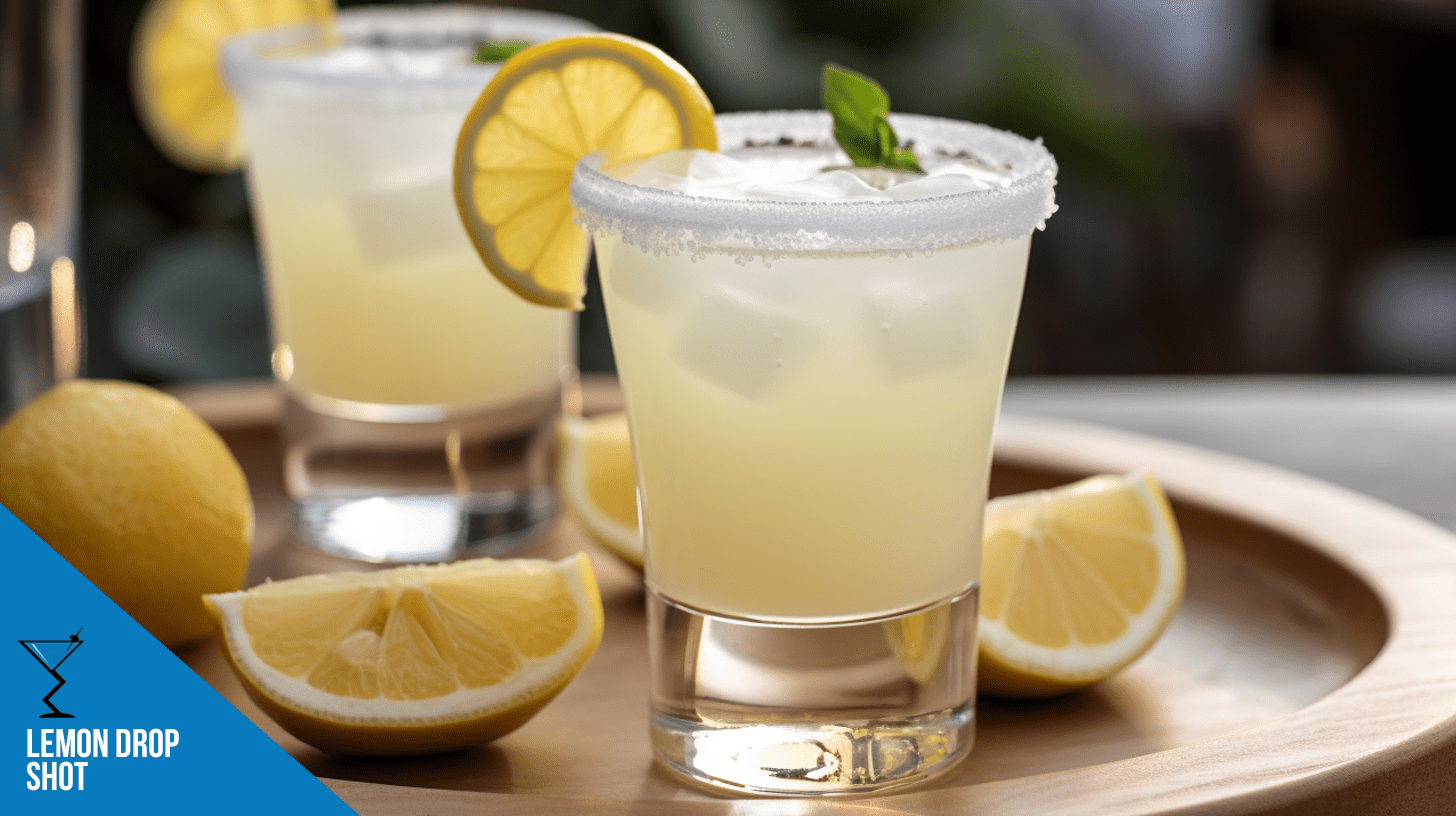 The Lemon Drop Shot recipe is made with a combination of Vodka, Lemon Juice and Sugar. This is a tasty, sweet, smooth shot that goes down quite easy and is very popular. If you like it sourer add a little less sugar if you like it sweet pile on the sugar. Learn how to make a Lemon Drop Shot check out the full cocktail recipe details below. If you like this you might also like the
Lemon Drop Cocktail
This is shot is also from out
most popular shots collection
Ingredients - What's in it?
Adjust Servings
1
serving
Instructions - How to make it:
Add sugar to the rim of your glass after wetting it with a slice of lemon or add sugar to a slice of lemon.

In a cocktail shaker fill with ice pour in your Vodka, Lemon juice and sugar.

Shake until chilled, and pour into the shot glass.
Nutrition
Calories:
66
kcal
|
Carbohydrates:
5
g
|
Protein:
0.03
g
|
Potassium:
9
mg
|
Fiber:
0.02
g
|
Sugar:
4
g
|
Vitamin C:
4.1
mg
What makes the Lemon Drop Shot a perennial favorite is its perfect balance of flavors. The sharpness of the lemon juice cuts through the smoothness of the vodka, while the sugar rim adds a hint of sweetness that rounds out the drink. It's a drink that's as enjoyable to sip as it is to look at.
Variations and Creativity
While the traditional Lemon Drop Shot is a classic, the cocktail's simplicity leaves room for creativity. Bartenders and enthusiasts alike have experimented with different types of citrus, flavored vodkas, and even spicy rims to add a unique twist to this timeless shot.
The Lemon Drop Shot is more than just a cocktail; it's a symbol of how traditional recipes can be transformed into modern classics. It's a testament to the creativity and innovation that thrives in the world of mixology. Whether you're a cocktail aficionado or a casual drinker, the Lemon Drop Shot is a delightful addition to any occasion, offering a zesty burst of flavor that's sure to leave a lasting impression.