Growing Strong Cocktail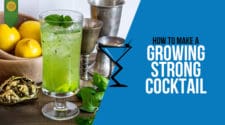 Support the Tyrell Family with this minty drink. Don't forget to check out our other Game of Thrones Cocktails.
4 Mint Leaves
4 Basil Leaves
1 tbs Sugar
50 ml Lime Juice
80 ml Gin
50-60 ml Tonic Water (or Lemonade)
Ice
Crush the basil, mint and sugar thoroughly with a mortar in a shaker.
Add the lime juice, gin and ice cubes
Shake and strain into your cocktail glass.
Garnish with lime quarters and leaves of the herbs.