-
Unveiling the Cactus Cooler Shot: A Vibrant Splash of Flavor!
Ah, the Cactus Cooler Shot! The name itself is intriguing enough to conjure images of arid landscapes punctuated by towering cacti. But don't let the desert-like imagery fool you; this shot is a celebration of flavors as vibrant as a desert sunset. This delicious concoction is the liquid equivalent of a party, providing a unique, citrusy blend that's perfect for any gathering. Wondering what makes this shot tick? Let's dig into the history, the flavor profile, and of course, the easy-to-follow recipe.
What is a Cactus Cooler Shot?
The Cactus Cooler Shot is a popular cocktail that has been making waves in the mixology world for its delightful blend of tropical and citrus flavors. This brightly colored shot combines the smoothness of peach schnapps with the vibrant tang of orange juice and a splash of energy drink, making it the perfect beverage to kick off a night of fun and dancing.
Why is it called a Cactus Cooler?
The name "Cactus Cooler" might seem a bit perplexing at first glance. The moniker likely draws inspiration from the Cactus Cooler soft drink, which is a tangerine and orange-flavored beverage. The cocktail captures the essence of this iconic drink in alcoholic form, making it a cooler, grown-up version suitable for any fiesta!
The Flavor Journey
Now, let's talk flavor. The Cactus Cooler Shot is a trifecta of taste sensations. The peach schnapps brings in the sweetness, balanced beautifully by the acidity of the orange juice. Add in the effervescence from the energy drink, and you've got a well-rounded shot that dances on the palate.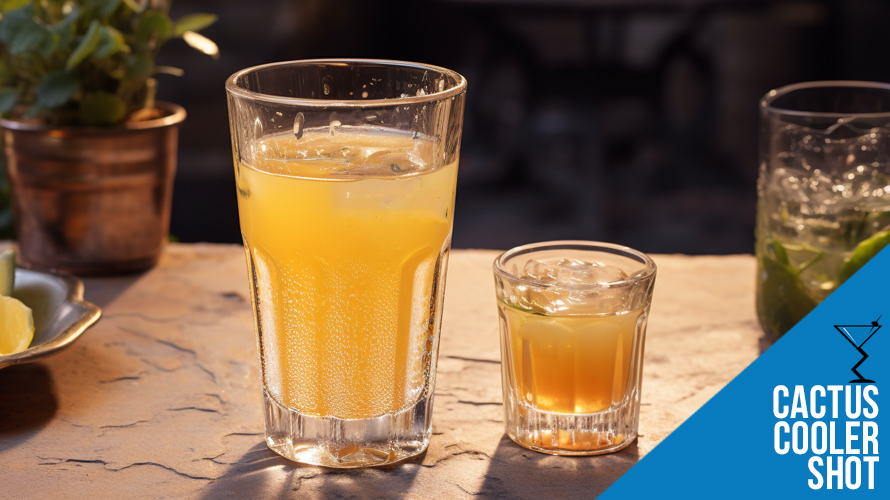 Ready to bring the party to life? Dive into the irresistibly vibrant world of the Cactus Cooler Shot! This isn't just a drink; it's an explosion of tropical and citrus flavors that will make your taste buds dance. Imagine the sweetness of peach schnapps, the tangy kick of orange juice, and the effervescent thrill of an energy drink, all in one sensational shot.
Perfect for any gathering, it's the ultimate social lubricant that's both delicious and Instagram-worthy. Want to be the life of the party? The Cactus Cooler Shot is your ticket to instant stardom! Trust us, this is one desert-inspired delight you won't want to miss. Cheers to good vibes and even better drinks! If you like this you might also like the Cactus Cooler Cocktail
Ingredients – What's in it?
Adjust Servings
1
serving
Instructions – How to make it:
In a shot glass add Mandarin Vodka and Peach Schnapps.

In a glass add 1/2 a can of energy soda and a space of orange juice.

Drop the shot glass into your glass and drink.
Nutrition
Calories:
174
kcal
|
Carbohydrates:
22
g
|
Protein:
0.2
g
|
Fat:
0.1
g
|
Saturated Fat:
0.01
g
|
Polyunsaturated Fat:
0.01
g
|
Monounsaturated Fat:
0.01
g
|
Sodium:
50
mg
|
Potassium:
59
mg
|
Fiber:
0.1
g
|
Sugar:
21
g
|
Vitamin A:
50
IU
|
Vitamin C:
20.6
mg
Pro Tip:
For an extra burst of flavor, you can garnish it with a slice of peach or an orange wheel.
Frequently Asked Questions
Can I substitute the energy drink?

Yes, you can use soda water or club soda for a less caffeinated version.

Is this a strong shot?

The Cactus Cooler is moderate in terms of alcohol content, thanks to the dilution from the juice and energy drink.

Can I make a large batch for parties?

Absolutely! Just maintain the 1:1:1 ratio for each ingredient and scale up.
So there you have it, the Cactus Cooler Shot in all its glory. Whether you're hosting a summer barbecue or looking for the perfect shot to elevate your next party, the Cactus Cooler has got you covered. Cheers to tropical vibes and good times!