Water Moccasin Shot #2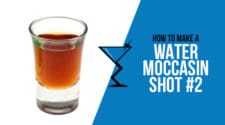 This Water Moccasin Shot is based off the popular shot Water Moccasin Shot. Its smooth and tasty.
.25 oz Canadian Whiskey ((Crown Royal))
.25 oz Peach Schnapps
.25 oz Pineapple Juice
.25 oz Orange Juice
In a cocktail shaker filled with ice add Peach Schnapps, Canadian Whiskey, Pineapple juice and Orange Juice.
Shake and strain into your shot glass.