Vodka Redbull – Vodka and Redbull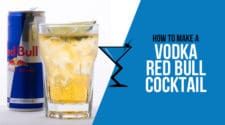 As the name suggests, Red Bull and Vodka, or Vodka Red Bull. It's a very popular drink in the club scene, because it give you energy to dance the night away as well as consume alcohol.
It has been said that mixing Red Bull with alcohol can be dangerous, since you are mixing a stimulant with a depressant. However, the claim has never been substantiated.
If you like this you might also like the Jager Bomb Shot, made with Jagermeister and Redbull.
2 oz Vodka
1 can Energy Soda ((Red Bull))
Add 2 oz of Vodka to a highball glass filled with ice.
Top with Red Bull energy Soda.