-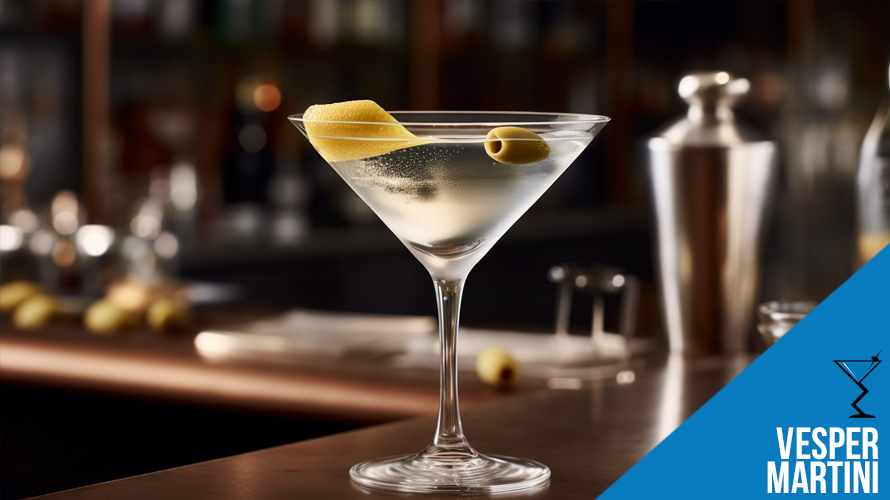 The Vesper, also known as the Vesper Martini, is a cocktail created by author Ian Fleming for his famous character James Bond. Introduced in Fleming's novel Casino Royale in 1953, the drink is named after the fictional double agent Vesper Lynd, who is a love interest of Bond.
When Bond orders his signature drink, he specifies the exact ingredients and preparation method: "A dry martini. One. Three measures of Gordon's, one of vodka, half a measure of Kina Lillet. Shake it very well until it's ice-cold, then add a large thin slice of lemon peel."
While traditional Martini recipes are typically stirred, the Vesper is shaken due to its higher alcohol content. With four ounces of liquor and an additional half-ounce of Lillet, the shaking process helps dilute the drink, making it more palatable.
The decision to shake the Vesper may also serve a literary purpose, emphasizing Bond as a strong and hard-drinking secret agent. The vigorous shaking ensures the drink is ice-cold, masking the taste of the alcohol as it goes down.
Bond claims to never have more than one drink before dinner, but he prefers that drink to be substantial. However, if you prefer a less potent cocktail, you can reduce the volume while maintaining the original proportions of the ingredients.
Whether you choose to enjoy a full-strength Vesper or a lighter version, the cocktail offers a glimpse into Bond's sophisticated and daring lifestyle, making it a classic choice for Martini enthusiasts and fans of the iconic secret agent.
Ingredients – What's in it?
Adjust Servings
1
serving
Instructions – How to make it:
Shake well until ice cold, strain into a deep wine goblet.
Nutrition
Calories:
273
kcal
|
Carbohydrates:
1
g
|
Protein:
0.01
g
|
Sodium:
1
mg
|
Potassium:
2
mg
|
Iron:
0.03
mg