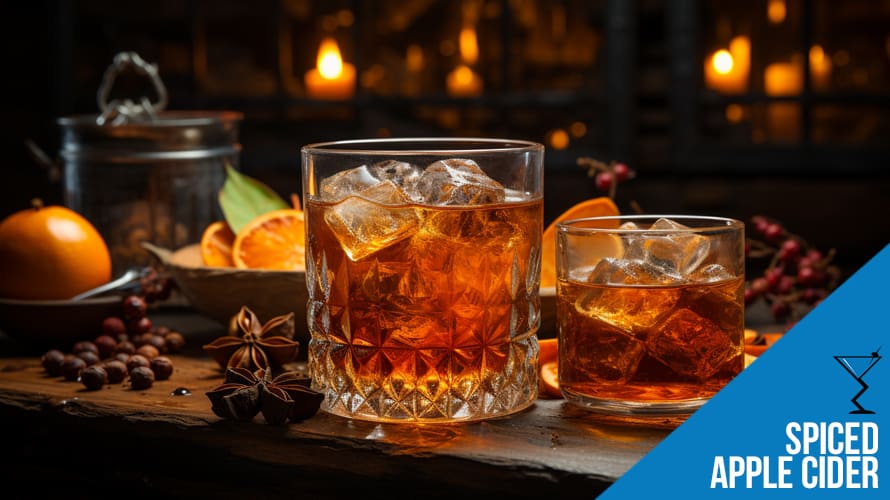 Ah, the allure of spiced apple cider! It's a drink that evokes the spirit of cozy nights, festive gatherings, and the pure, unadulterated joy of sipping something that warms you from the inside out. But this isn't just any spiced apple cider; this is a glass of celestial harmony, where spices like cardamom and nutmeg dance elegantly with apple, orange, and a hint of fresh mint. It's a modern take on a classic, designed to please your taste buds while giving you that familiar comfort we all crave, especially during the holiday season.
This Spiced Apple Cider with a Twist is easy to prepare but leaves a lasting impression. Perfect for family gatherings, holiday parties, or simply a serene evening by the fire. Ready to elevate your cider game? Let's dive in! 🍎🍊🌿
Ingredients – What's in it?
Adjust Servings
4
servings
Instructions – How to make it:
Halve the orange and insert cloves into each half.

In a large saucepan, combine the studded orange halves, apple juice, cinnamon stick, thinly sliced ginger, crushed cardamom pods, and a dash of nutmeg. Heat on medium-high until it reaches a boil. Remove from heat and let it sit for 30 minutes to allow the flavors to meld together.

Use a fine-mesh strainer to filter out the spices and orange, pouring the liquid into a pitcher. Place the pitcher in the fridge to cool down.

Once chilled, blend in the apple cider. Serve in glasses filled with thinly sliced red apple, freshly torn mint leaves, and ice cubes.
Nutrition
Calories:
156
kcal
|
Carbohydrates:
31
g
|
Protein:
1
g
|
Fat:
1
g
|
Saturated Fat:
0.2
g
|
Polyunsaturated Fat:
0.2
g
|
Monounsaturated Fat:
0.1
g
|
Trans Fat:
0.003
g
|
Sodium:
19
mg
|
Potassium:
441
mg
|
Fiber:
4
g
|
Sugar:
21
g
|
Vitamin A:
210
IU
|
Vitamin C:
22
mg
|
Calcium:
73
mg
|
Iron:
1
mg