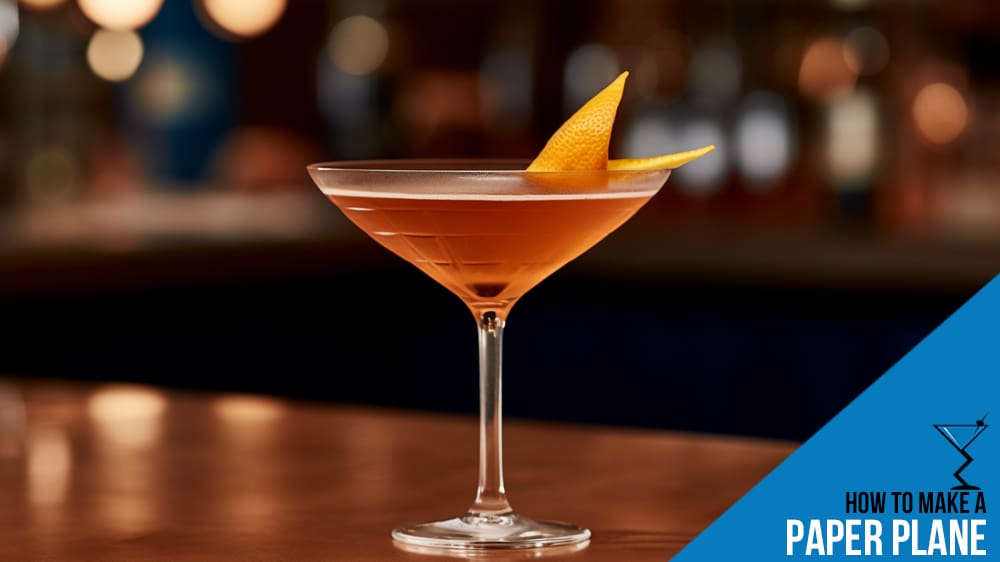 The Paper Plane may seem like a long-standing classic cocktail, but it was actually invented in 2008 by bartender Sam Ross. This modern variation on the Last Word combines equal parts bourbon, Amaro Nonino, Aperol, and lemon juice to create a beautifully balanced drink with bitter, sour, and herbal notes.
Inspired by the popular song "Paper Plane" by M.I.A., Ross created the cocktail for the opening menu of The Violet Hour in Chicago. It quickly gained popularity and found its way to New York City, where it was served at Milk & Honey and gained a loyal following.
When making the Paper Plane, Ross suggests using a slightly higher-proof bourbon to add body to the drink. It's important not to overshave the cocktail to maintain its coldness without diluting it too much. With equal parts of each ingredient, it's an easy cocktail to make at home.
The Paper Plane showcases the flavors and balance of the ingredients. It's a great introduction to whiskey for those new to the spirit, as the bourbon presence is not overpowering. Despite its relatively recent creation, the Paper Plane has made a significant impact in the cocktail world and is likely to remain a beloved drink for years to come.
Ingredients – What's in it?
3/4

oz

bourbon

3/4

oz

Aperol

3/4

oz

bitter liqueur

3/4

oz

lemon juice
Adjust Servings
1
serving
Instructions – How to make it:
Fill a shaker with ice.

Add the bourbon, Aperol, Amaro Nonino, and lemon juice to the shaker.

Shake the ingredients vigorously until the shaker is well-chilled.

Strain the mixture into a coupe glass.

Optionally, you can garnish the cocktail with a lemon twist or a small paper plane for a playful touch.
Nutrition
Calories:
204
kcal
|
Carbohydrates:
11
g
|
Protein:
0.1
g
|
Fat:
0.1
g
|
Saturated Fat:
0.01
g
|
Sodium:
1
mg
|
Potassium:
23
mg
|
Fiber:
0.1
g
|
Sugar:
3
g
|
Vitamin A:
1
IU
|
Vitamin C:
8
mg
|
Calcium:
1
mg
|
Iron:
0.03
mg