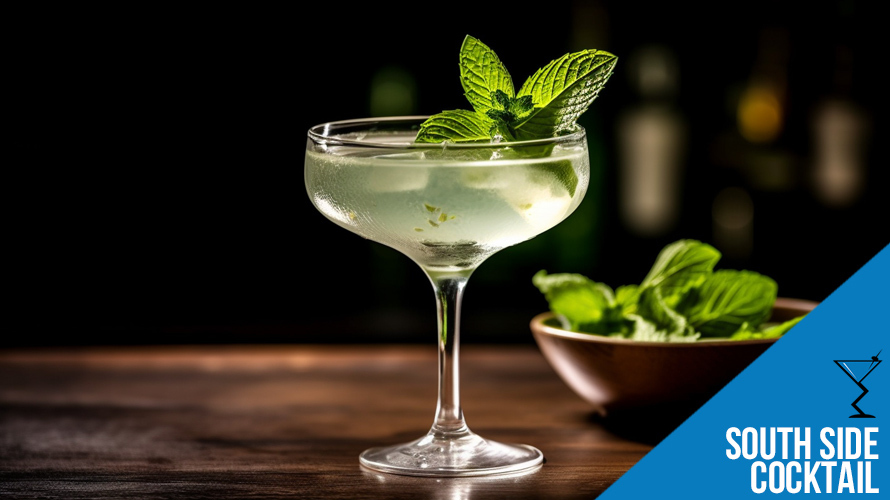 The South Side is a cocktail with a bit of a mysterious background, leading to varying descriptions and interpretations among bartenders and cocktail historians. Some consider it a Mint Gimlet served in a cocktail glass, while others view it as a gin-based Mint Julep served over ice. The origins of the drink's name are also debated, with some attributing it to Chicago's South Side neighborhood and others suggesting its creation at the Southside Sportsmen's Club on Long Island. Despite the uncertainty, one thing is clear: the South Side is a classic cocktail that deserves recognition and enjoyment for its refreshing combination of gin, citrus, sugar, and mint.
The recipe for the South Side can be traced back to at least 1916 when it appeared in Huge Enslinn's book "Recipes for Mixed Drinks" under the name South Side Fizz. Enslinn's version included gin, lemon and lime juices, sugar, mint, and club soda. Over time, variations emerged, with some recipes omitting the club soda and one of the citrus fruits, resulting in the South Side we know today.
While the 21 Club in New York is often associated with popularizing the South Side, it is unlikely to be its place of origin, as the bar did not open until 1922. The exact creation story remains elusive, but the 21 Club's contribution to the cocktail's popularity is undeniable.
When preparing the South Side, it is important to handle the mint gently. Over-muddling can release bitter flavors instead of the desired sweet and aromatic qualities. Double-straining the drink, using a fine-mesh sieve, ensures a smooth texture and prevents any torn mint bits from ending up in your glass and causing inconvenience. Experiment with both lemon and lime to find your preferred citrus profile, though the traditional recipe calls for lemon juice.
Ingredients – What's in it?
Adjust Servings
2
serving
Instructions – How to make it:
Add the mint leaves and lemon juice into a shaker and gently muddle.

Add the gin and simple syrup with ice, and shake until well-chilled.

Double-strain into a chilled cocktail glass.

Garnish with a mint sprig.
Nutrition
Calories:
108
kcal
|
Carbohydrates:
12
g
|
Protein:
0.1
g
|
Fat:
0.1
g
|
Saturated Fat:
0.01
g
|
Polyunsaturated Fat:
0.02
g
|
Sodium:
9
mg
|
Potassium:
38
mg
|
Fiber:
0.2
g
|
Sugar:
11
g
|
Vitamin A:
107
IU
|
Vitamin C:
6
mg
|
Calcium:
9
mg
|
Iron:
1
mg