Skilttle Bomb Shot #2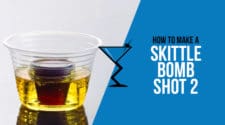 This is another version of the popular Skittle bomb shot. Personally I prefer this version.
Not the skittle bomb shot you were looking for? Try the Skittle Bomb Shot Recipe
20 ml Triple Sec
5 ml Blue Curacao
5 ml Raspberry Liqueur
.5 can Energy Soda (Red Bull)
Add Triple Sec, Blue Curacao and Raspberry Liqueur into a shot glass.
In a beer glass add 1/2 a can of energy soda
Drop the shot into the glass and drink.