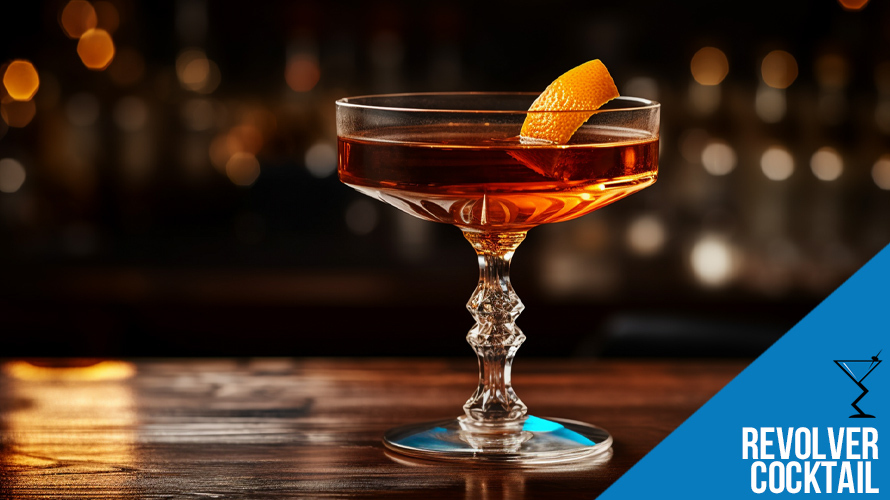 The Revolver: A Spirited Fusion of Whiskey and Coffee
Born in the early 2000s in San Francisco, the Revolver is a modern classic that jazzes up the timeless Manhattan with a shot of coffee liqueur. Created by bartender Jon Santer, the cocktail first made waves at Bruno's before becoming a staple at the renowned Bourbon & Branch bar.
Unlocking the Original Revolver
The cocktail was originally crafted with Bulleit bourbon, known for its rye-heavy spiciness. While you can use any quality bourbon, sticking with Bulleit pays homage to the drink's roots.
The Secret Sauce: Flaming Orange Peel
What sets the Revolver apart is its flamed orange peel garnish, adding a warm, citrusy aroma. Don't worry, you don't need to be a pyrotechnic expert. Just strike a match and hold it close to the drink's surface. Squeeze a strip of orange peel, skin side facing the flame, to release its oils through the flame and onto the drink. It's a simple yet impressive flourish that adds both flair and flavor.
Pro Tip: The Revolver appeals to fans of both classic whiskey cocktails and coffee-based drinks. It's a versatile option that can be served at dinner parties, whiskey tastings, or whenever you're in the mood for something a little adventurous.
Ingredients – What's in it?
Adjust Servings
1
serving
Instructions – How to make it:
Add the bourbon, coffee liqueur, and orange bitters to a mixing glass filled with ice. Stir until well-chilled.

Strain into a chilled cocktail glass.

Flame an orange peel over the drink to express its oils, then garnish with the peel.
Nutrition
Calories:
189
kcal
|
Carbohydrates:
8
g
|
Protein:
0.01
g
|
Fat:
0.04
g
|
Saturated Fat:
0.01
g
|
Polyunsaturated Fat:
0.01
g
|
Sodium:
2
mg
|
Potassium:
1
mg
|
Sugar:
7
g
|
Iron:
0.02
mg