Red Death Cocktail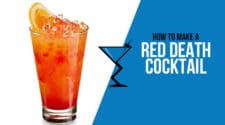 The Red Death is a sweet cocktail that blends a number of fruity flavours together.
1 oz Southern Comfort
1 oz Vodka
.5 oz Sloe Gin
.5 oz Triple Sec
.5 oz Blackberry Brandy
2 oz Orange Juice
1 oz Pineapple Juice
In a cocktail shaker with ice add ingredients and shake.
Strain in to a high ball glass with ice.