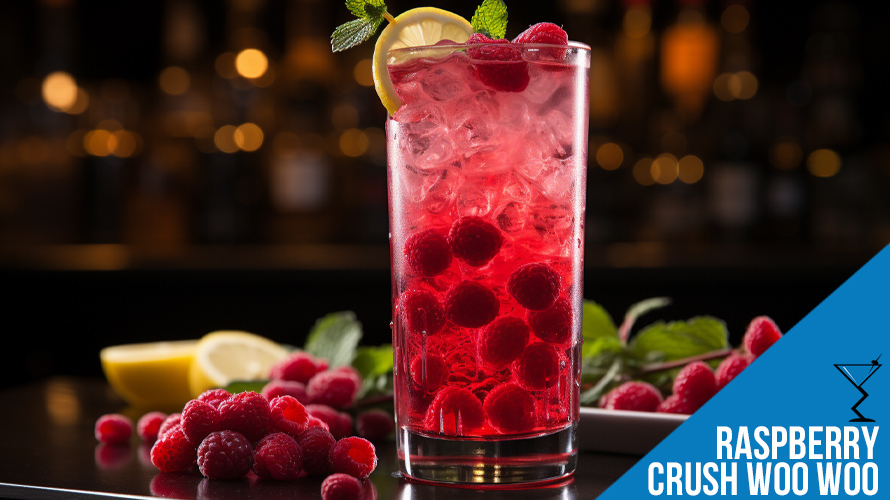 Looking to jazz up your next gathering? The Raspberry Royale Woo Woo cocktail is a vibrant concoction that's sure to make you the host with the most! Infused with raspberry and peach flavors, rounded off with a cranberry tang, this drink promises a fruity adventure for your palate.
Ingredients – What's in it?
Adjust Servings
1
serving
Instructions – How to make it:
Chill the Glass: Start by placing your highball glass or mason jar in the freezer for a few minutes to chill.

Prepare the Ice: Fill the chilled glass with ice cubes up to three-quarters full.

Add the Vodka: Pour 1 oz of Smirnoff Raspberry Royale into the glass over the ice.

Infuse Peachy Goodness: Add 1 oz of Archers Peach Schnapps to the mix.

Pour in the Cranberry Juice: Top it all off with 6 oz of cranberry juice. This not only adds color but a lovely tartness that balances the sweetness of the other ingredients.

Stir it Up: Use a stirrer or spoon to mix the ingredients gently. You want to distribute the flavors without making the drink too frothy.

Garnish: Finish by adding 2-3 fresh raspberries as a garnish. They add a pop of color and a burst of flavor.

Serve Immediately: Hand off the glass to a lucky guest or enjoy it yourself!
For a non-alcoholic version, you can replace the vodka and schnapps with raspberry and peach flavored syrups.
Flavor Profile:
Sweet, Fruity, Tangy
So, if you're looking to elevate your hosting game, remember that the Raspberry Royale Woo Woo is a surefire way to impress your guests and get the party started. Cheers! 🍹🎉
Nutrition
Calories:
219
kcal
|
Carbohydrates:
28
g
|
Protein:
1
g
|
Fat:
0.3
g
|
Saturated Fat:
0.02
g
|
Polyunsaturated Fat:
0.1
g
|
Monounsaturated Fat:
0.04
g
|
Sodium:
4
mg
|
Potassium:
137
mg
|
Fiber:
0.4
g
|
Sugar:
27
g
|
Vitamin A:
78
IU
|
Vitamin C:
17
mg
|
Calcium:
15
mg
|
Iron:
0.5
mg