Pink Lady Cocktail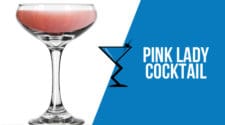 The Pink Lady Cocktail recipe is made with a combination of Gin, Grenadine syrup and Light Cream. Served in a Cocktail Glass.
Learn how to make a Pink Lady Cocktail check out the full cocktail recipe details below.
1.5 oz Gin
1 tsp Grenadine Syrup
1 tsp Cream
Shake ingredients with ice strain into a cocktail glass and serve.