-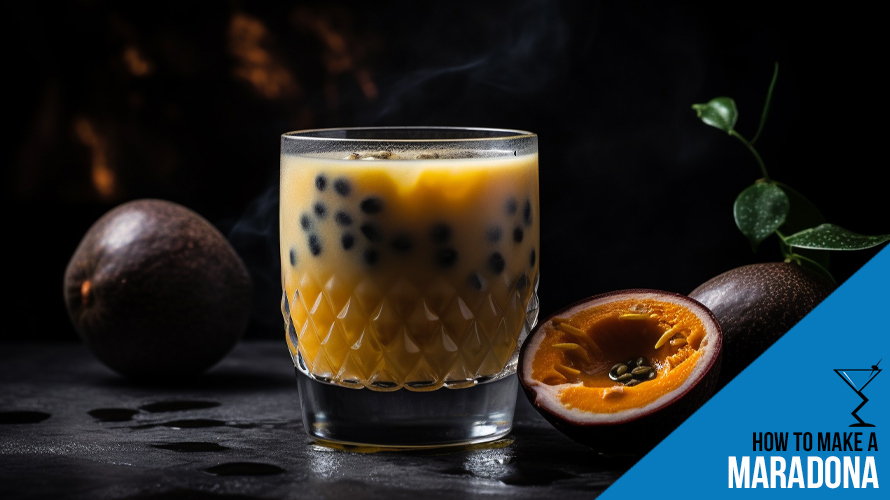 The Maradona Mocktail, is a delightful blend of rich milk and the tangy, tropical flavor of passion fruit. This cocktail, named after the legendary Argentine footballer Diego Maradona, offers a refreshingly fruity taste that's perfectly balanced by the creamy smoothness of the milk.
The passion fruit juice brings a lively citrusy tang and exotic flavor profile to the drink, while the passion fruit puree enhances this tropical theme with a deeper, more concentrated passion fruit taste. The milk, on the other hand, adds a velvety smoothness and helps to mellow out the vibrant acidity of the passion fruit, resulting in a well-rounded and enjoyable cocktail.
Ingredients – What's in it?
Adjust Servings
1
serving
Instructions – How to make it:
Shake well over ice cubes in a shaker. Strain into a large highball glass over crushed ice. and serve.
Nutrition
Calories:
97
kcal
|
Carbohydrates:
20
g
|
Protein:
2
g
|
Fat:
2
g
|
Saturated Fat:
1
g
|
Polyunsaturated Fat:
0.2
g
|
Monounsaturated Fat:
0.3
g
|
Cholesterol:
5
mg
|
Sodium:
28
mg
|
Potassium:
414
mg
|
Fiber:
2
g
|
Sugar:
18
g
|
Vitamin A:
1051
IU
|
Vitamin C:
36
mg
|
Calcium:
59
mg
|
Iron:
1
mg