Discovering the Brandy Alexander
A Creamy Classic
Welcome to the world of the Brandy Alexander, a cocktail that's like a dessert in a glass. It's rich, it's creamy, and it's got a kick of brandy that makes it the perfect nightcap.
A Sip of History – From Gin to Brandy
Did you know the Brandy Alexander started as just the "Alexander" with gin? It's true! But somewhere along the line, brandy took the stage, and boy, are we glad it did. This change gave the cocktail a richer, deeper flavor that's been a hit ever since.
Crafting the Classic – The Recipe
Ingredients: Brandy, dark crème de cacao, and heavy cream.
Method: Shake it up with ice, strain into a chilled glass, and voilà – you've got yourself a Brandy Alexander.
Choosing Your Brandy – The Star of the Show
The brandy you choose can make or break this cocktail. I love using a VSOP for its smooth, rich flavor. It's like the difference between a good day and a great day.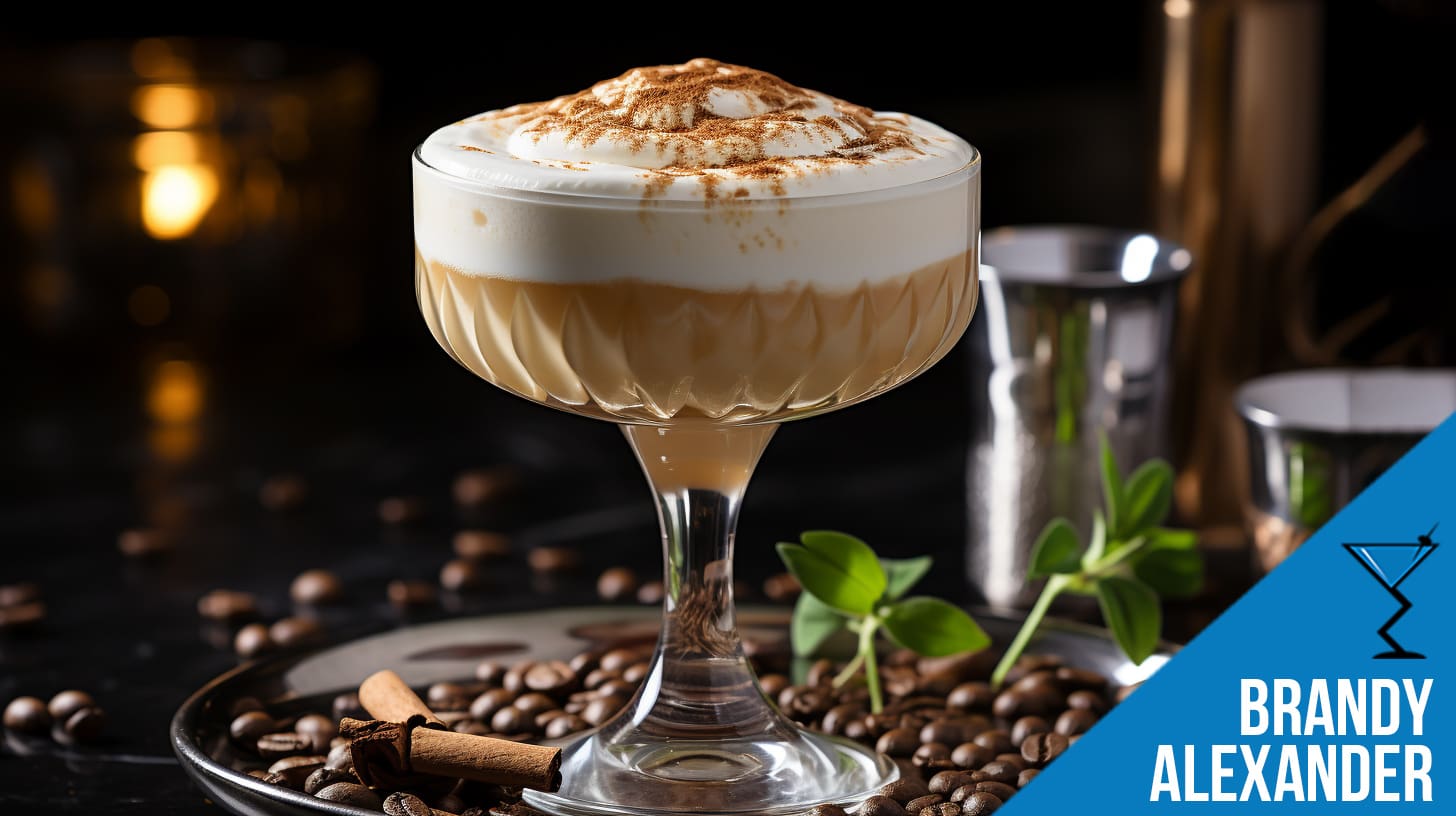 The Brandy Alexander is not just a cocktail; it's a decadent experience. Imagine the rich, velvety blend of brandy, dark crème de cacao, and heavy cream, shaken to perfection and served in an elegant glass. It's like a dessert and a drink all rolled into one.
The Brandy Alexander has evolved from its gin-based ancestor to become a beloved classic, renowned for its luxurious texture and depth of flavor. Whether you're winding down after a long day or celebrating a special occasion, this cocktail is sure to impress. Its creamy consistency and the warm embrace of brandy make it the perfect indulgence.
And with room for creative twists, it's a cocktail that invites you to experiment and make it your own. So why not shake up a Brandy Alexander tonight and savor the rich tapestry of flavors?
Ingredients - What's in it?
Adjust Servings
1
serving
Instructions - How to make it:
In a shaker half-filled with ice cubes, combine the brandy, creme de cacao and half-and-half.

Strain into a cocktail glass and garnish with the nutmeg.
Nutrition
Calories:
236
kcal
|
Carbohydrates:
17
g
|
Protein:
1
g
|
Fat:
3
g
|
Saturated Fat:
2
g
|
Polyunsaturated Fat:
0.2
g
|
Monounsaturated Fat:
1
g
|
Cholesterol:
10
mg
|
Sodium:
18
mg
|
Potassium:
40
mg
|
Fiber:
0.1
g
|
Sugar:
9
g
|
Vitamin A:
101
IU
|
Vitamin C:
0.3
mg
|
Calcium:
31
mg
|
Iron:
0.1
mg
The Creamy Delight – Getting It Just Right
The secret to the perfect texture? It's all in the shake. You want to shake it until your arms complain, ensuring that creamy, frothy goodness.
Garnishing with Grace – A Dash of Elegance
A little grated nutmeg or cocoa powder on top, and you've got a cocktail that looks as good as it tastes. It's the little things that make a big difference.
Modern Twists – Make It Your Own
How about adding a shot of espresso for a caffeinated kick? Or maybe some cinnamon for a spicy twist? The Brandy Alexander is your canvas.
This cocktail is more than just a drink; it's a piece of history, a dessert, and a warm hug all in one. So go ahead, give it a try and make it your own.