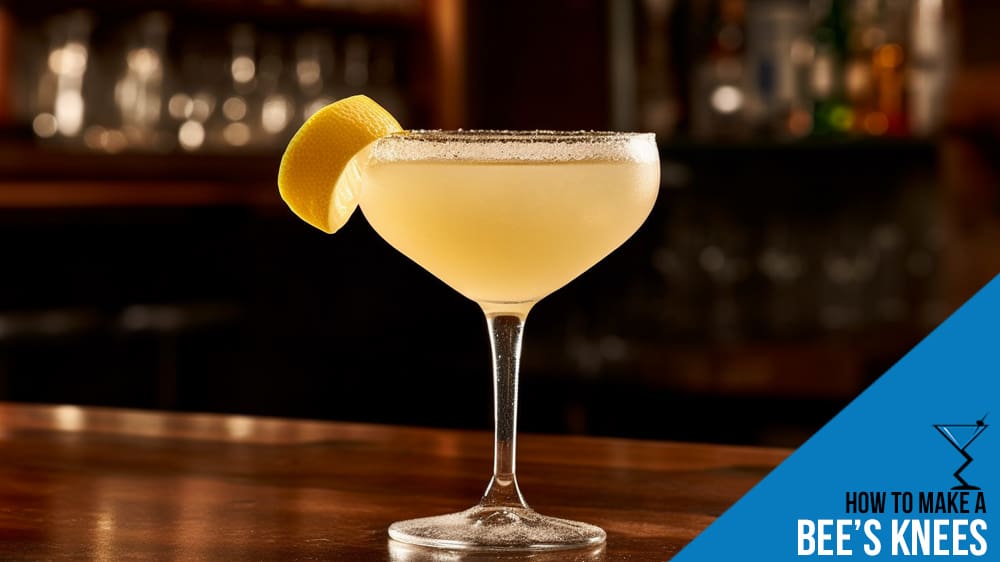 The Bee's Knees is a classic cocktail from the Prohibition era, combining gin, lemon juice, and honey. The name derives from the popular slang of the time, signifying something exceptional or outstanding.
Frank Meier, a renowned bartender at Hôtel Ritz Paris during the 1920s, is credited with creating this drink. It is a variation of the Gin Sour, replacing sugar with honey for a richer flavor profile. This substitution may have been a way to mask the taste of inferior gin commonly available during that era.
Thankfully, today's gin market offers a wide selection of high-quality options. Choosing a London Dry gin will emphasize juniper, while a modern gin with citrus and floral notes will highlight the lemon and honey in the cocktail. Feel free to select a gin that best suits your preferences, as it takes center stage in this drink.
To create the Bee's Knees, homemade honey syrup is used, blending honey and water to add complexity and sweetness. Fresh lemon juice provides a perfect balance of acidity and brightness.
Whether you desire an easy and refreshing cocktail for yourself or need to serve a crowd, the Bee's Knees is an excellent choice. With just three ingredients, it can be quickly prepared for parties and gatherings. Simply keep a bottle of gin, homemade honey syrup, and plenty of lemons on hand, and you'll be ready to shake up this delightful drink for your thirsty guests.
Ingredients – What's in it?
Adjust Servings
1
serving
Instructions – How to make it:
In a shaker filled with ice, combine the gin, lemon juice, and honey syrup.

Shake vigorously until well-chilled and the ingredients are thoroughly mixed.

Strain the mixture into a chilled cocktail glass.

Garnish with a twist of lemon for an extra touch of citrus aroma.

Sip and enjoy the refreshing and flavorful Bee's Knees cocktail.
Nutrition
Calories:
179
kcal
|
Carbohydrates:
13
g
|
Protein:
0.1
g
|
Fat:
0.1
g
|
Saturated Fat:
0.01
g
|
Sodium:
1
mg
|
Potassium:
30
mg
|
Fiber:
0.1
g
|
Sugar:
12
g
|
Vitamin A:
1
IU
|
Vitamin C:
8
mg
|
Calcium:
2
mg
|
Iron:
0.1
mg