Amaretto Sour Classic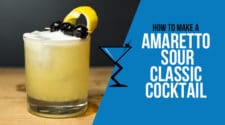 Learn how to make a Amaretto Sour cocktail with this simple recipe.
1.5 oz Almond Liqueur
.75 oz Bourbon Whiskey
1 oz Sugar Syrup
1 tsp Lemon Juice
.5 oz Egg White (Beaten)
1 Cherry
1 Orange (Slice)
Add all ingredients to a shaker with no ice and shake to combine.
Add Ice to the shaker and shake until chilled
Strain over fresh ice into an Old Fashioned glass.
Garnish with a maraschino cherry and orange slice.