Amaretto Sour – A Sweet Twist on Classic Sophistication
Welcome to the delightful world of the Amaretto Sour, a cocktail that masterfully balances sweet, sour, and nutty flavors. This isn't just a drink; it's a flavor adventure, a testament to the art of mixology, and a favorite for those who love a twist of sweetness in their glass.
The Allure of Amaretto
Amaretto, an Italian liqueur, is the heart and soul of this cocktail. Made from almonds or apricot pits, it offers a unique, rich, and nutty flavor that's unmistakably luxurious. The Amaretto Sour is a celebration of this exquisite liqueur, showcasing its versatility and charm.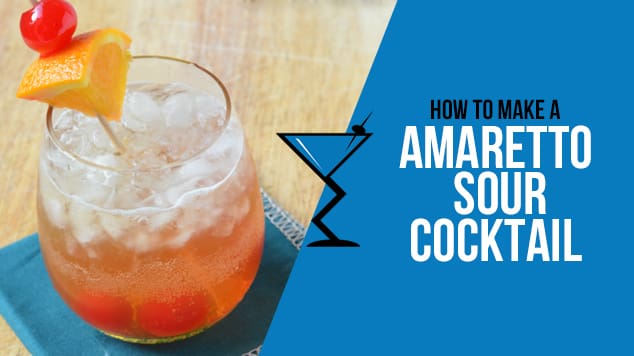 Learn how to make a Amaretto Sour cocktail with this simple recipe.
Ingredients - What's in it?
Adjust Servings
1
serving
Instructions - How to make it:
Add all ingredients to a shaker with no ice and shake to combine.

Add Ice to the shaker and shake until chilled

Strain over fresh ice into an Old Fashioned glass.

Garnish with a maraschino cherry and orange slice.
Nutrition
Calories:
225
kcal
|
Carbohydrates:
39
g
|
Protein:
2
g
|
Fat:
0.05
g
|
Saturated Fat:
0.004
g
|
Polyunsaturated Fat:
0.005
g
|
Monounsaturated Fat:
0.004
g
|
Sodium:
25
mg
|
Potassium:
49
mg
|
Fiber:
0.4
g
|
Sugar:
17
g
|
Vitamin A:
25
IU
|
Vitamin C:
10.7
mg
|
Calcium:
4
mg
The Sweet and Sour Balance
The beauty of the Amaretto Sour lies in its perfect balance. The sweetness of Amaretto is beautifully countered by the tartness of lemon, creating a harmonious dance of flavors.
Versatility and Personal Touch
The Amaretto Sour is adaptable. Some prefer it sweeter, others more sour. It's a cocktail that invites personalization. Experiment with the ratios to find your perfect blend.
Amaretto Sour in Popular Culture
This cocktail has graced many a bar menu and has been a staple in the cocktail scene for decades. Its popularity is a testament to its delightful taste and elegant simplicity.
A Drink for Sweet Moments
The Amaretto Sour is perfect for those moments when you crave something sweet yet sophisticated. It's a cocktail that suits a variety of occasions, be it a cozy night in or a lively party.
Personal Anecdote A Sweet Surprise
I remember introducing the Amaretto Sour at a friend's party. Skeptical at first, they were soon won over by its delightful taste, proving that this cocktail can be a pleasant surprise for many.
Hosting with Amaretto Sour
Planning to serve Amaretto Sours at your next gathering? It's a great choice for impressing guests with something a bit different yet utterly delicious.
The Amaretto Sour is more than just a cocktail; it's a delightful journey of flavors. Whether you're a seasoned cocktail lover or new to the world of mixology, the Amaretto Sour is a must-try that promises to enchant and delight.