Wet Pussy Shot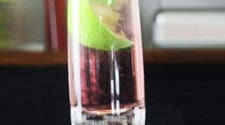 The Wet Pussy Shot, is a very popular shot both on our website and at bars and clubs. It's known to have got its name because its pink, wet, and girls love it. There are many different variations of the drink but, this seems to be the most popular version of the wet pussy; made with Peach Schnapps, Vodka, Cranberry Juice and a dash of Lime juice.
The Wet Pussy Shot is easy to make as seen in the Wet Pussy Shot video above.
You might also like to check out the Wet Pussy Cocktail instead, its a more creamy sweet cocktail of the same name but made with Irish Cream and Raspberry Liqueur.
If you are looking for more naughty cocktails check out our list of Dirty Named Cocktails & Drinks or our most popular shots collection.
Another shot you might like is the Pink Pussy Shot
.5 oz Peach Schnapps
1 dash Cranberry Juice
.5 oz Vodka
1 squeeze Lime
To make the Wet Pussy shot, simply pour Peach Schnapps, Cranberry Juice and Lime Juice in to a cocktail shaker with ice.
Shake well then strain into a shot glass .