We do not Sow Cocktail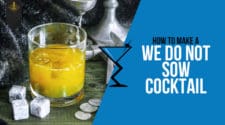 Support the Greyjoy Family with this orange drink. Don't forget to check out our other Game of Thrones Cocktails.
.5 tsp Ginger ((grated))
3 slices Orange
15 ml Lemon Juice
30 ml Triple Sec
50 ml Scotch Whiskey
Pour the ginger and the orange into a shaker and crush it
Add the lemon juice, triple sec and whiskey and thoroughly shake.
Strain into your cocktail glass with ice.