-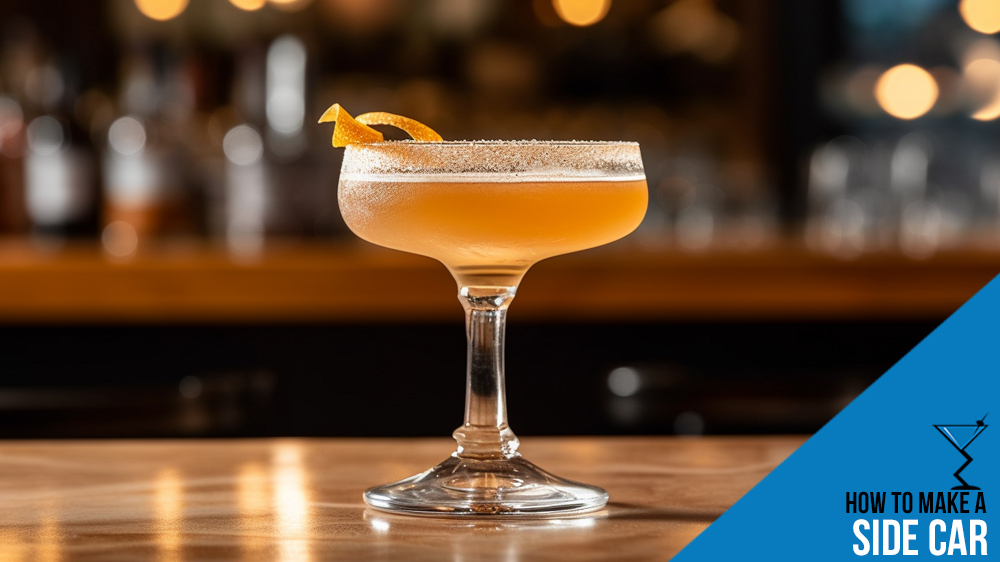 Sidecar
With a rich century-long history, the Sidecar stands as one of the most renowned classic cognac cocktails, cherished by cocktail enthusiasts to this day. This dry and tangy libation combines cognac, orange liqueur, and fresh lemon juice, accompanied by a sugared rim. It is a direct descendant of the Brandy Crusta, an antique New Orleans cocktail that has experienced a resurgence in recent times.
The Sidecar likely originated during World War I and made appearances in cocktail books such as Harry MacElhone's "Harry's ABC of Mixing Cocktails" and Robert Vermeire's "Cocktails and How to Mix Them" in 1922. The original recipe called for equal parts cognac, Cointreau, and lemon juice, but subsequent versions adjusted the ratios to two parts cognac, one part Cointreau, and one part lemon. This revised formula remains popular today.
While the sugared rim is optional, it adds a delightful touch to the Sidecar, complementing its dry profile with occasional bursts of sweetness. The drink's name has sparked debates, with claims from both a French and English bar attributing it to a customer arriving in a sidecar of a motorcycle. Alternatively, bar veteran Dale DeGroff suggests that the name refers to the extra mixture left in the shaker, served in a shot glass on the side, known as a sidecar.
Serving a shot alongside your Sidecar not only adds a playful touch but also allows you to share the cocktail's origin story. Whether you opt for the sidecar or not, this classic concoction is sure to please and captivate with its timeless allure.
Ingredients – What's in it?
Adjust Servings
1
serving
Instructions – How to make it:
Shake ingredients with ice and strain into a chilled cocktail glass.

Garnish with a twist of lemon peel.
Nutrition
Calories:
168
kcal
|
Carbohydrates:
8
g
|
Protein:
1
g
|
Fat:
1
g
|
Saturated Fat:
1
g
|
Sodium:
2
mg
|
Potassium:
29
mg
|
Fiber:
1
g
|
Sugar:
7
g
|
Vitamin A:
1
IU
|
Vitamin C:
8
mg
|
Calcium:
1
mg
|
Iron:
1
mg