Ours is the Fury Cocktail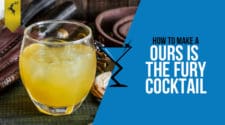 Support the Baratheon with this sweet treat. Don't forget to check out our other Game of Thrones Cocktails.
50 ml Water
50 ml Honey
50 ml Gin
30 ml Lemon Juice
30 ml Orange Juice
Ice
Mix the honey with water and heat until boiils. Let cool.
Add the Cooled mixture into a cocktail shaker with ice.
Add Gin, Lemon Juice and Orange Juice and shake and strain into your cocktail glass.